Musicians Score Free Studio Rentals at Greenwich House for New York Music Month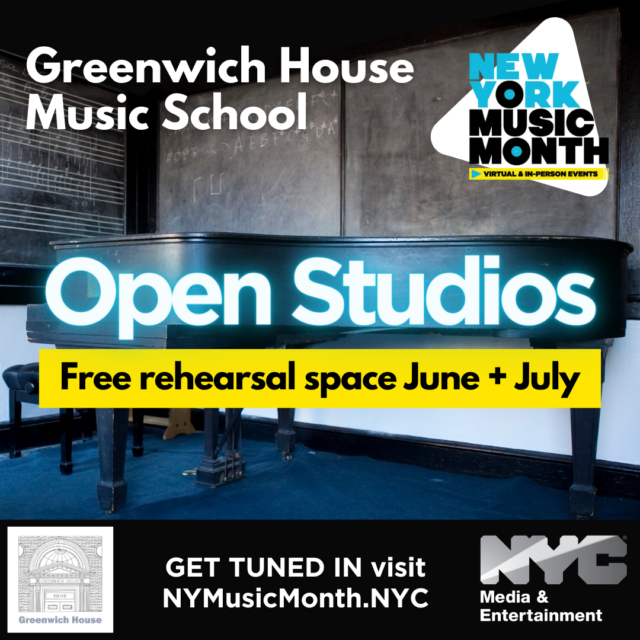 Musicians across New York City have free access to studio rentals at Greenwich House Music School from June 1 – July 31 as part of the NYC Mayor's Office of Media + Entertainment's celebration of New York Music Month (NYMM). 
"We're proud to serve as the Manhattan location for NYMM's free rehearsal space program," said Rachel Black, director of Greenwich House Music School (GHMS). "Our studios feature Steinway and Yamaha pianos, harps, drum sets, electric keyboards, as well as large windows and double doors for maximum sound protection." 
Each musician or ensemble of musicians is entitled to one free 1-to-3-hour block of rehearsal time per day by signing up online. In addition to free studio space, this month-long City-wide initiative includes in-person and virtual events throughout June. 
Studio spaces at Greenwich House Music School
"We are proud to expand access to free rehearsal space for musicians at studios in each of the five boroughs throughout the month of June," said Commissioner of the Mayor's Office of Media and Entertainment, Anne del Castillo. "Thank you to Greenwich House Music School for partnering with us to support our local musicians during New York Music Month." 
Information on all events, including concerts, performances, industry talks and workshops, and the community-sourced calendar for users to upload free and ticketed music events happening in June across the five boroughs, can be found at NYMusicMonth.NYC.   
June has been New York Music Month since the initiative was first created by the City in 2017. The annual initiative was created in recognition of the variety of music events taking place in June, such as NYC's SummerStage, Songwriters Hall of Fame Induction Gala, and the NMPA Annual meeting; and to expand these offerings to include a more wide-ranging slate of free programming for industry professionals and New Yorkers to enjoy. 
Visit the GHMS website to learn more about free studio space. Contact the GHMS at at plongo@greenwichhouse.org with any questions.  
About the Greenwich House Music School 
Since 1905, Greenwich House Music School has provided high-quality, affordable arts education for New Yorkers of all ages. The goal of GHMS is to teach students the beauty and transformative power of music, art, dance and theater. The distinguished faculty works to ensure students have the opportunity to experience these programs through private lessons, classes, workshops and monthly recitals. Each year GHMS provides scholarships for students on the basis of need and merit, as well as for public school outreach programs.  
In addition to educating its students, GHMS serves the community with a wide spectrum of concerts, education workshops, and meetings for local civic and cultural organizations, and provides affordable rehearsal and performance space for local musicians. Greenwich House continues to work with our fellow community organizations around the city to advocate for social justice, and economic reforms that could begin to stem the tide on our nation's systematic oppression of people of color. The school has also played an important part in the careers and lives of tens of thousands of students. GHMS is a member of the New York City Coalition of Community Schools of the Arts and The National Guild of Community Arts Education.