Maggie Finlayson and Tom Jaszczak
Event Navigation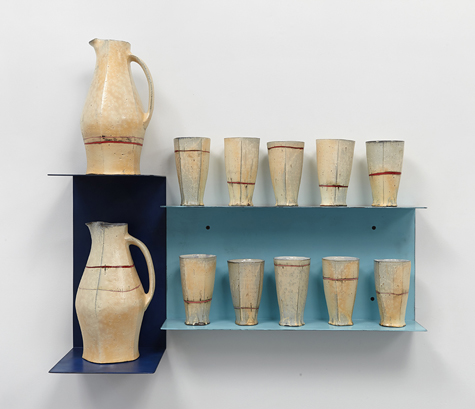 Maggie Finlayson and Tom Jaszczak
November 18 – December 16, 2016
Finlayson and Jaszczak each skillfully generate an approach to creating functional ceramic ware that envelops an attention to form and consideration for modern craft. Delicate accents, gestural marks and minimal geometry can all be found in the details of their work. In Finlayson's work, natural colors are muted, and quiet subtleties are highlighted in her earthenware basins, troughs and baskets. Influenced by her long love of textiles, she incorporates patterns and the repetition of line into surface treatments for each piece. For Jaszczak's mugs, trays and jars, "form communicates a pot's gesture; it speaks of utility." He combines the motions of function with the aesthetics of line and abundance of shape.
Finlayson studied in Canada at Kootenay School of the Arts in Nelson, British Columbia and Alberta College of Art + Design in Calgary, Alberta. She received her MFA in Ceramics from the University of Minnesota in 2013. Finlayson has participated in ceramic residency programs at the New Taipei Ceramics Museum in New Taipei City, Taiwan, the Archie Bray Foundation in Helena, MT, Anderson Ranch Arts Center in Snowmass, CO, and Medalta Potteries in Medicine Hat, Alberta.
Jaszczak received a BA in Visual Art and a BS in Biology from Bemidji State University. He has been an assistant for Simon Levin and Tara Wilson, as well as a summer resident and long-term resident at the Archie Bray Foundation. Currently Finlayson and Jaszczak are Resident Artists at Penland School of Crafts in North Carolina.
Related Events