Kari Marboe Draws Inspiration From The Pottery's Archives
August 5th, 2019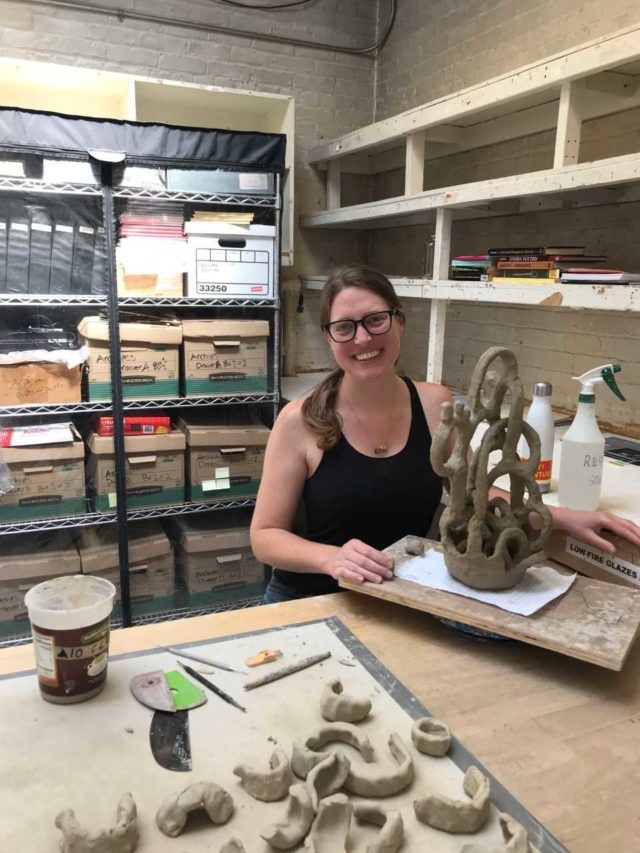 Kari Marboe is Greenwich House Pottery's Resident Artist from July 8th through August 9th, 2019. Here, she discusses the project she's been working on during her stay and the exciting inspiration she's been finding while digging into the Pottery's archives. Learn more about Marboe and her residency here.
How did you start working with clay?
I grew up in a suburb of New York City and my large high school in Mamaroneck offered many art classes. I started taking ceramics with Michael Dollar in my sophomore year and was instantly excited by its possibilities and history. Mr. Dollar is a sarcastic gentleman and would often say things to the class about how we were all going to go into ceramics. So, I did. Looking back, I feel very fortunate that while I was first learning about clay, I was also learning that one could pursue a career in the arts. When I started attending college at Oberlin I began taking art history courses and thought I would go into that field, until I realized that almost all of my papers – from Islamic art to European – were about ceramics. I had been aware of the Bay Area ceramics scene from Ceramics Monthly and decided to transfer to California College of the Arts to earn a BFA because of its Ceramics Program, where Viola Frey had been and Arthur Gonzalez is still, as well as its encouraging approach to conceptual art. After that I went to UC Berkeley for my MFA where I had the opportunity to develop my interests in site-specific work, research, rhetoric, and teaching. I didn't touch clay once during my two years there. I completely took a break and wasn't sure if I would go back to it. But you always go back to ceramics. It's too fascinating not to!
Your work incorporates art history, performance and community engagement. How did you arrive at exploring this intersection, and what do you think makes clay a fitting medium to have at the center of it?
I think my combined experiences at Oberlin, CCA, and UC Berkeley placed me at that intersection and I like clay to be the main character because of the flexibility and possibility it holds. It can be an additive, an ink, or sculpture. My practice blends research and the connective relationship of materiality in the form of stories and sculptures. For example, in Concealed Footwear and Associated Deposits for Root Division, a nonprofit arts organization of San Francisco that was then struggling during an economic shift. Based on an 1800s custom, visitors contributed an object to be embedded into ceramic bricks that were then installed in the space to promote good luck.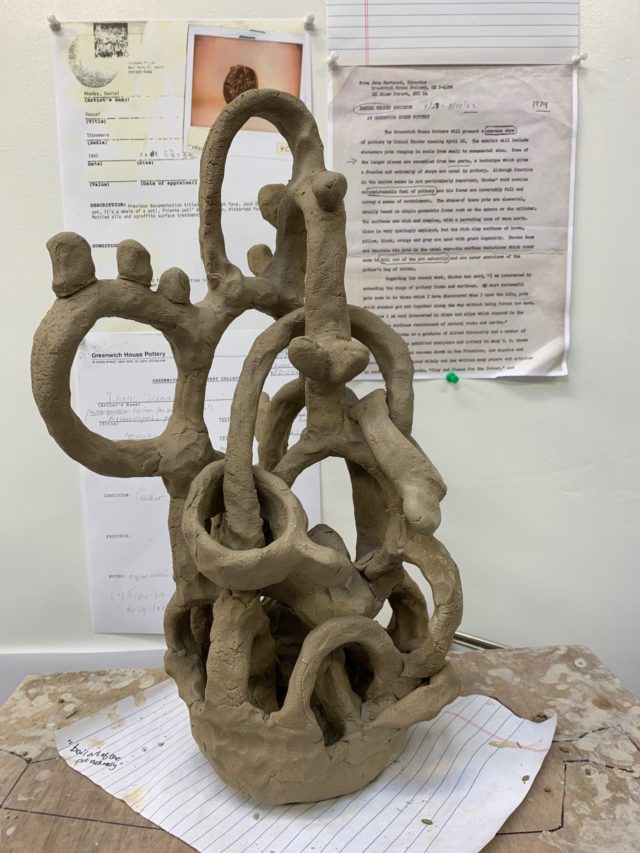 You're working on a project about Daniel Rhodes while you're at the Pottery. Could you talk a little about that?
Duplicating Daniel is a collaborative exhibition project I am doing with Mills College Art Museum (MCAM), which will be on view at MCAM January 22-March 15, 2020. The exhibition traces my attempts to recreate an original sculpture, recorded as missing from MCAM's permanent collection, by the influential but under-recognized ceramicist Daniel Rhodes. The only trace of it is a black and white photograph and date of accession.
Now I'm trying to recreate the original sculpture based on Rhodes data collected from research and interviews with artists in the field. The body of work also looks at the embedded failure of trying to make, or be, an exact copy of something else. The works include ceramic sculptures, watercolors, oral histories and photographs, which I'll be working on here at my residency at Greenwich House Pottery.
With place being such an important element in your work, what interested you in having a residency at The Pottery in particular?
The Pottery is an extremely inspiring place! I applied knowing I wanted to dive into the archives to see what magic could be found and learn more about how artists from Peter Voulkos to Betty Woodman to Tom Sachs became a part of the community. Then I started the Duplicating Daniel series and found that he did a "one-man show" here in 1962, so he became the focus of my research while here. Kaitlin McClure, Gallery and Residency Manager, was kind enough to provide me with the archive itself—she rolled it right into the studio!
Have there been any especially interesting finds in the Pottery's archives?
Yes! The archive item I started making work about was a 1962 GHP Press Release from Daniel Rhodes's exhibition. I loved the language so much that I selected three phrases to make pieces about including "one-man show," "unmistakable feel of pottery," and "boil out of the pot naturally." I thought about how these descriptions and ideas may have carried into, or influenced, his later work including the missing piece from the Mills College Art Museum.
The second archive item is a Daniel Rhodes piece. The work is from 1960 and has the unusual title Fish face. Jack Dempsey, whale pot. It's a whale of a pot! Piranha pot! This is an unusual title for his practice, as is the squished basketball shape of the piece with the most distinct feature being the mouthlike slit on one side. There are two condition reports that accompany the vessel's photographs. One recalls the state of the piece as being "excellent" while the other is noted as "good." I let the sentiment of the words, as well as new combinations, guide the forms of my next round of sculptures. Out came Excellent Piranha, Good Whale, and Jack Dempsey in a series of fin-covered, looping sculptures. I used the porcelain paper clay as a nod to the development and use of additives Daniel Rhodes is known for using in his work.
The third archive item is a poster from Minnie Negoro's exhibition in 1974. Minnie Negoro and Daniel Rhodes became friends in 1942 when Rhodes ran a pottery shop at Heart Mountain, a relocation camp in Wyoming where Negoro was sent to due to her Japanese heritage. Negoro later went on to Alfred for her MFA, teach at the Pottery, and eventually start the ceramics program at UConn. The two remained friends until their deaths. I made works for this topic based on thoughts around how Rhodes influenced Negoro, and how Negoro influenced Rhodes.
What has this residency allowed you to explore in your work that you wouldn't have been able to otherwise?
I never would have been able to understand aspects of Daniel Rhodes and his work without visiting Greenwich House Pottery. It has been a pleasure to learn more about his exhibition and work in the collection, while also exciting to read his letter of inquiry for a teaching position at the Pottery when he was about to graduate from Alfred in 1942. That was an unexpected find! I had also known that there would be overlaps between artists in Greenwich House Pottery's programming and collection with the Prieto Collection of Contemporary Ceramics at the Mills College Art Museum, but again found an exciting number: Peter Voulkos, Betty Woodman, Ron Nagle, Minnie Negoro, and Antonio Prieto himself, to name a handful. It speaks to East and West Coast crossover and realizes the connection between the Pottery and MCAM.
The Fellowship Program has also allowed me the time, support, materials, and conversations to expand my own forms and approach to working in ceramics. Being around the community, while also focusing on my new work, has pushed what I'm making forward. I'm taking new risks and beginning to recognize some key formal elements—the loops!—of my practice that I will carry back to California.