Piano Student Learns to Read Music After 10 Years of Playing, Thanks to Scholarship
October 23, 2019
Play It Forward, the annual benefit for Greenwich House Music School's scholarship fund, is around the corner on Tuesday, November 5th. This intimate evening of music features a concert in the Greenwich Village townhouse of board member, Mark Rudd. Headlining this year is Ravi Coltrane and Brandee Younger, with scholarship recipients as the opening act. A Lois Blitzer Bernstein scholar, eighteen-year-old Kelvin Rojas, sat down with us to talk about his experience at the Music School and his love of piano.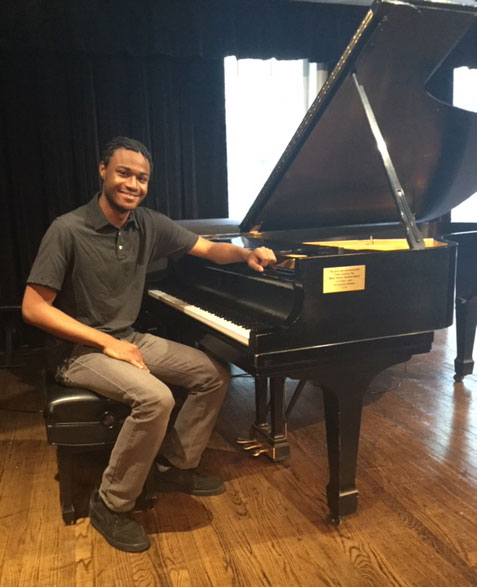 How long have you been a student at Greenwich House Music School?
I started three years ago now, but I first began taking lessons with my teacher, Michiyo Morikawa, a year before coming to the school.
When did you start playing piano?
I've been playing piano for most of my life but I was mostly self-taught until I met my teacher. So, I have a hard time putting an exact age on it but I guess I'd say since around 5 years old.
How were you teaching yourself before you started here?
I wasn't able to read music, so I would mostly just listen and try to copy what I heard as best as I could. But you can only get so far with that before the music gets too complicated and you can't follow everything. I watched videos on YouTube for the most part to try and learn more until I met my teacher.
Do you remember anything in particular that drew you to piano?
My dad always loved the piano but he never played. He would buy his kids toy cars or toy planes and my siblings would play with them but for me for some reason I wasn't really interested in that. But whenever he would buy me keyboards I would just sit there for hours before I even knew how to sound good. I would always mess around with that and leave the toy cars to the side. My dad noticed and would get me new keyboards and I think that encouragement helped draw me in.
Do you have a favorite genre to play?
I feel like that changes all the time for me, but if I had to choose one I'd have to say classical music, only because it's been a genre that I've loved for a really long time. Even when I'm drawn to other genres, I always come back to classical music.
Is that what your dad listened to?
No! My whole family mostly listened to church music. I'm the only musician in my family and I'm the only person who listens to classical music. I remember getting into it because I used to play a lot of transcriptions from TV shows and those transcriptions would have references to classical music. I thought maybe I should check out what these songs were referencing, and that's when it all started.
I know now that part of the answer is learning to read music, but is there anything else you discovered or learned from your time here that you might not have otherwise?
I learned a lot. Just from my first lesson I already felt like I had to rethink everything I was doing, that everything I knew was a lie. It already felt like everything I had worked on until that point had to be changed. So where do I even begin? Apart from learning how to read music, I learned how to not be so tense when playing, I learned how to be more musical, how to actually count. I also got more comfortable with performing. I would be so nervous when performing before and I still get nervous but it's more under control. My teacher gave me this level of polish that I don't think I would've been able to accomplish on my own.
Have there been any standout memories during your time here?
I'd say every concert I've done here has been memorable. Everything about it. I love the school. It's hard for me to pick something!
What are your plans for the future with piano?
Right now I intend to just keep playing and performing and see where it takes me. My ultimate dream is winning the Chopin competition.
What will you be playing at Play it Forward this year?
I'll be playing Figaro by Rossini with my teacher and another student. And I'll be playing Rachmaninoff's Romance with my teacher.
---
Come see Kelvin perform at Play it Forward on Tuesday, November 5th while helping more students nurture their talents! Get your tickets here.