Growing Up With Greenwich House: Youth Community Center Leaders Look Back on Their Journeys from Student to Teacher
September 2, 2020
Even at the beginning of the summer or school year, walking into the Greenwich House Youth Community Center feels like you're joining a group of old friends. Many of the kids have been returning to the program year after year, and are already eagerly bringing new students and campers into the fold. But it's not just the kids who are happy to be reunited. "Half of our staff are former students," said Omar Amores, Director of Greenwich House Youth Community Center. "That shows that what we do has a profound impact on who we serve. Our programs aren't just about having fun, they have made a significant impression on many of our student's lives."
We sat down with five instructors who began as campers and students to learn more about their experiences growing up with Greenwich House and what the program has meant to them.
Meet the Counselors:
Ryan E. Dennis is from the West Village and went to PS3. He started going to camp at the Children's Aid Society (before it was incorporated into Greenwich House) when he was 6 years old, and became a CIT at 14. Two years later Ryan moved up to counselor and is now the CIT Supervisor, an assistant instructor, instructor, and the safety coordinator managing COVID-19 safety protocols. After transferring from George Washington University, Ryan currently attends Baruch College, with the hope of attending law school in the future.
Kijani-Ali Gaulman is from the Bronx. He started attending summer camp in 2010 when he was 8 years old. When he turned 14 he became a CIT, and moved up to be a counselor at 16. He is now in his third year as a counselor, and will be taking classes at SUNY Purchase this fall.
Juliana Maciel attended PS41 and went to summer camp from ages 5 through 7. She returned to Greenwich House when she was 14 to be a CIT, started volunteering with the program at 15, and became a counselor when she was 16. At 18, Juliana also started teaching yoga and assisting instructors at After-School. She is now in her third year at NYU, studying Sustainable Education.
Joshua Medina became a CIT at Summer Arts Camp at 15. He became a counselor the year after, and has been working during the summer as a counselor and the school year as a teacher's assistant for the past five years.
Lucia Van Ryzin is from the West Village and started with the After-School program when she was 5 years old. At 15, she heard from neighbors that many of the same teachers had stayed with the program after it became a part of Greenwich House, and signed on to be a CIT and volunteer with After-School. Two years later, she became a counselor. Thanks to her time at Greenwich House, she has realized that working with kids is something she wants to do, and intends to study Education at Smith College.
Their favorite classes as students and campers set the stage for their future work as counselors and instructors.
Juliana: I remember taking sewing with Rafat Ansari and photography with Sally Young at Children's Aid Society. I'm able to assist in classes with Rafat and Sally now because I used to take the classes myself!
Ryan: When I was a camper I always loved gym class with Tamain Trice, Sally's art class, and science. Now, I'm the science teacher.
Lucia: My favorite classes were sewing with Rafat and architecture with Sally, and I also took photography, jewelry making, cartooning and cooking. I took so many classes; as a kid, that variety definitely helped me figure out what my passions were. Now, I'm an arts and crafts teacher, and I'm still learning from the other teachers. Sally's woodworking class is inspiring me to introduce more art into my life.
The community at Greenwich House stood out the most when looking back on their time as students and campers.
Kijani: My favorite memories from camp are when the whole camp is all together at the Friday afternoon parties, or at movie nights. It's why I keep coming back. There's a community at Summer Arts Camp like no other.
Joshua: Yeah, my favorite memories from camp are from those times when we had all the groups together too. I also really liked playing dodge ball with everyone and teaching the kids how to play.
Ryan: Those dodge ball games could get really intense! I've found lifelong friends here. This program has been a part of my life for many years and I wouldn't be the person I am today without the people I've met and experiences I've had.
Juliana: I was always drawn to the community that I found here. Over the years, I really feel like I have a second family at Greenwich House. After my first summer as a CIT, I felt so connected to the staff and other students. It helped that the friends I made when we were CITs remained in the program as well. Josh, Ryan, Kijani and I were all CITs or volunteering at the same time. We've all really grown together.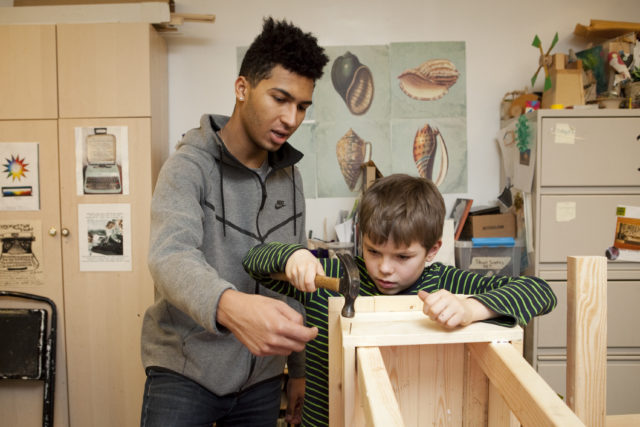 Their bond formed over the years has a positive impact on the program itself, now that they're leaders.
Kijani: We're practically family and that really shows. You feel that energy in the hallways and I think the kids really enjoy that and feel welcome into the ever growing family at Greenwich House.
Lucia: This program really does function as a family. We have seen the same faces come in and the same faces grow up. Having this level of community and this level of comfort makes it not only fun for us, but fun for the kids. I come to work every day with a genuine level of enthusiasm and excitement that can only come from loving what I do. I think the love I have for my job truly shines through to my kids, and makes them have an even stronger love for this camp.
Their experiences as Summer Arts Camp counselors during the COVID-19 pandemic have been challenging, but rewarding.
Juliana: Without the family that we have built here, I do not think what we've been doing with summer camp this year would have been possible!
Kijani: It's definitely been one of the more challenging obstacles we've had to overcome. It's not easy for kids to grasp the concept of social distancing, but we've been doing a good job at working it into their routine.
Juliana: The children have been great. They are super grateful to have any kind of in-person interaction and generally understand the severity of the situation, so they have been very good about following guidelines like hand washing, wearing masks, and social distancing.
Lucia: I think this has been one of the most memorable summers I've had here, because it really does feel like my work is meaningful. I think having a fun environment where safety rules are constantly being enforced makes COVID safety less of a scary thing. Slowly, the kids are adjusting to the new norms of life, but doing so in a fun and supportive environment.
Ryan: It's been extremely humbling. It's an amazing thing that we have been able to give our campers a sense of normalcy in these trying times. To have all of our parents continue to trust us to conduct camp in the safest and most fun way possible is an honor. I'm happy with what we've accomplished, and I feel like we're providing a service for our community.
Now, they're looking forward to the future as the program transitions to the Greenwich House Youth Community Center.
Juliana: Since the program is small, I really feel like I can have an impact on the children.
Joshua: I'm looking forward to expanding our program into other activities that help out the community. Kids need to be able to get back out and socialize in a safe way. It's the best thing for them.
Ryan: I'm glad I get to be a part of something that allows our kids to be supported with their school work and continue to have social interactions in a safe environment. I'm excited that we will be part of the solution for getting kids back to school.
Lucia: I am extremely excited for our learning enrichment program. I think the journey that Greenwich House is about to take is extremely important to ensuring that kids continue on the path of education, and I think everyone involved has their hearts in the program. We care about these kids, and we understand that this new form of schooling should be handled with care and love.
---
Omar has been proud to lead Ryan, Kijani, Juliana, Joshua, Lucia and many others along the path from student to teacher. "We are committed to building and enriching our community," he said. "It's exciting to watch them grow. We have a great team here and watching these kids grow up into such incredible young adults has been an honor and I look forward on continuing to build the program with the family and great team we have here."
Learn more about the programs at the Greenwich House Youth Community Center here.