Greenwich House Names Fabio J. Fernandez As New Director Of Greenwich House Pottery
Fernández to serve as the 13th Director Greenwich House Pottery's 102-year history
May 12, 2021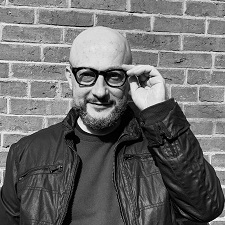 Today, Greenwich House announced that Fabio J. Fernández will be joining the organization as the new Director of Greenwich House Pottery. Fernández, a trained sculptor with over 20 years of experience working in the arts, joins Greenwich House after serving as Executive Director of the Society of Arts + Crafts in Boston, Massachusetts. Fernández will serve as the thirteenth Director of Greenwich House Pottery, which was founded in 1909.
"We are extremely excited to welcome Fabio to the Greenwich House family," said Darren Bloch, Chief Executive Officer of Greenwich House. "Greenwich House Pottery's legacy in the field of ceramics — teaching hobbyists and aspiring amateurs, supporting innovation, and creating residencies and showcases for up and coming artists — makes it an institution like few others. Fabio joins us at a critical point in our history as we recover and regroup following the COVID-19 pandemic."
Fernández's breadth of knowledge within the field of American craft will expand programming within the Pottery and create new opportunities for the Greenwich House Pottery community, working in partnership with staff and faculty, artists in residence, and the organization's many partners. Fernández will also take the reins of the Pottery's capital expansion project which broke ground in 2019, that in addition to expanding and modernizing spaces will provide new kilns, increased accessibility, energy-savings and reduce environmental impact.
"I am delighted to join a distinguished organization that aligns with my personal values related to the arts, community, and education," said Fabio J. Fernández, Director of Greenwich House Pottery. "I've long been drawn to clay as the hyphen that connects people, ideas, and objects. As a sculptor, I'm honored to lead an institution that has played an important role in developing the story of American ceramics, and I look forward to guiding Greenwich House Pottery into the next stage of its purpose and promise."
During his time at the Society of Arts + Crafts, Fernández planned and executed national exhibitions that presented fresh explorations into the conceptual, technical and material approaches of contemporary American artists. As Executive Director he transformed the organization, leading a capital campaign that raised $2.2 million to build a new facility three times the size of the organization's former home.
Fernández serves on the Board of Trustees of the Haystack Mountain School of Crafts in Maine, has been a visiting critic and adjunct professor at various universities, served as juror for the United States Artists Fellowship and numerous other grant panels, and has been a nominator for the prestigious MacArthur Fellows. He holds an MFA in Sculpture from Cranbrook Academy of Art, an MA in Sculpture from Montclair State University, and a BS in Business Management from Seton Hall University.