Greenwich House and Washington Square Park Conservancy Partner to Expand Spring/Summer Programming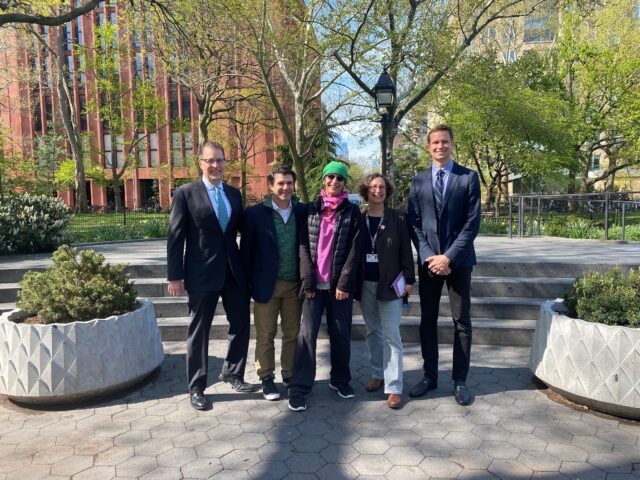 Greenwich House and Washington Square Park Conservancy (WSPC), two organizations which strive to improve the quality of life of the downtown community in New York City, will team up to expand WSPC's programming opportunities at Washington Square Park. Programming, which will kick off in May will include Tai Chi, Dances for a Variable Population, an adult/senior movement class, as well as drawing and painting classes. Programs will be held weekly in WSP, weather permitting. 
 Dances for a Variable Population, which WSPC has sponsored in the Park for the last 7 seasons, is a multi-generational dance company and organization inspiring people of all ages and abilities to come together and express themselves at Garibaldi Plaza.Through the partnership with Greenwich House, WSPC is thrilled to extend the season an additional two months. 
For WSPC, the partnership with Greenwich House marks the kickoff of a series of programming and initiatives to celebrate the Conservancy's 10th Anniversary. The partnership programs join 12 other weekly recurring activities hosted by the Conservancy to appeal to parkgoers of all ages, abilities, and interests. From fitness to art, there is something for everyone to enjoy.  
 Greenwich House continues to adapt to the changing neighborhood, sustaining or shifting programs as needs call for it and always staying true to the vision of establishing a hub for community, social services and the arts for all New Yorkers. Today, Greenwich House provides early childhood education, after-school and summer arts programs, performing, visual and music arts and education, mental and behavioral health services for children, adolescents, adults and older adults.  
 "The Conservancy is always striving to bring new opportunities to WSP for our community," said WSPC Deputy Director, Sheryl Woodruff. "We're incredibly excited to partner with a beloved local organization such as Greenwich House, and know that by working together we can expand what's available for all to enjoy in the Park. We hope to see you at these or one of our other great programs this coming season."  
"We are thrilled to be partnering with the Washington Square Conservancy to add to the amazing mix of programs and activities hosted in and around one of our City's most iconic urban parks," said Darren Bloch, Chief Executive Officer, Greenwich House. "As two local institutions committed to building a safe, healthy, vibrant and engaged community – for neighbors and visitors alike – we thank the Conservancy and other key supporters including the NYC Parks Department, NYC Department for the Aging, and our community of patrons and funders who are helping create this opportunity to expand some of our most popular programming beyond the walls of our traditional older adult spaces."   
"We thank the Conservancy and Greenwich House for partnering to offer quality free programs at Washington Square Park," said NYC Parks Manhattan Borough Commissioner William Castro. "With Tai Chi, painting classes, and more, this season's programming will invite New Yorkers of all ages to get outside, connect, and have fun in one of New York City's most vibrant and iconic parks." 
"Greenwich House and Washington Square Park Conservancy are two pillars of our community," said DVP Artistic Director Naomi Goldberg Haas. "They provide fun and enriching activities that build a sense of advocacy and enjoyment." 
 "This summer partnership will help ensure that Washington Square Park continues to be a safe, welcoming, and enriching space for everyone," said Manhattan Borough President Mark Levine. "This collaboration among Greenwich House, Washington Square Park Conservancy, and the Parks Department supports New Yorkers who need help and meet the challenges that confront this community head on.Together we are doing the important work of recovering stronger than we were before the pandemic." 
 "Now more than ever, we need to be there for our seniors," said City Council Member Erik Bottcher. "This is a 'dream team' of service providers that will offer even more amazing services to seniors in our community. I'm so excited by this partnership and proud to lend my support!" 
 "The partnership between Washington Square Park Conservancy and Greenwich House will bring additional life to the already vibrant neighborhood of Greenwich Village," said State Senator Brad Hoylman. "I am confident that these two strong community organizations will create quality programming that will help bring the entire community closer together, and I am grateful to Gale Brewer for prioritizing this while Manhattan Borough President. I look forward to seeing what this partnership creates." 
 "As we celebrate the Washington Square Park Conservancy's 10th Anniversary, I want to congratulate the Conservancy and Greenwich House for creating programming to engage and delight park goers of all ages," said Assemblymember Deborah Glick. "Both organizations are vital community partners, offering services and initiatives that are essential to the well-being and enjoyment of our neighborhood, and it is wonderful to see this collaboration." 
 "I am thrilled to celebrate this incredible summer programming partnership between the Washington Square Park Conservancy and Greenwich House, an organization whose resources and services provide thousands of residents with enrichment and support," said Council Member Carlina Rivera. "New Yorkers from across the five boroughs come to Greenwich Village to enjoy this world-famous park, and I look forward to the new opportunities they will find here to enjoy time with fellow community members." 
 Schedule of Partnership Events: 
Dances for a Variable Population: 
Tuesdays 9:30-10:30: May-October  
Drawing/Painting: 
Fridays 1pm-2pm: May-October  
Tai Chi: 
Fridays 12-1pm: May-October