Greenwich House Pottery Fellowship Artist Cathy Lu works on a new project, American Dream Pillows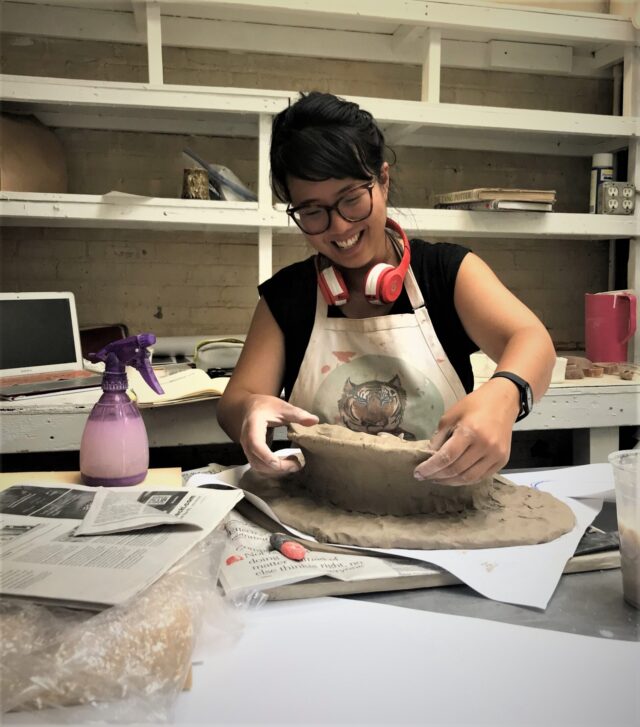 Cathy Lu is a California-based artist who explores experiences of immigration and cultural hybridity from an Asian American point of view. Lu earned an MFA from San Francisco Art Institute in sculpture and ceramics, and a BFA in ceramics and a BA in Chinese language, history, and culture from Tufts University. She currently teaches ceramics at California College of the Arts.
Lu creates sculptures and installations that often draw from traditional Chinese imagery and objects to problematize what it means to be both Asian and American without being fully accepted by either culture. During her fellowship, Lu will work on a project called American Dream Pillows. She will create ceramic pillows that meditate on Asian American experiences, specifically the tension between the American dream and the lived experience.
We spoke with Lu about her work and what made her decide to work with Greenwich House Pottery.
Why did you choose to apply to the Greenwich House Pottery's Residency Program?
I applied for this residency because I was excited by the community of artists that work here and the ability to also visit and research resources in New York City like MOCA (Museum of Chinese in America) or the cultural programming at Wing on Wo & Co. (Wing on Wo & Co. is the oldest continuously running store in Chinatown that sells porcelain ware and also offers programming that works to protect and preserve Chinatown's arts, culture and activism.)
What do you hope to accomplish during your residency?
During my residency, I wanted to continue my American Dream Pillows series. They are inspired by the Chinese ceramic pillows of the Tang and Song dynasties that were believed to influence your dreams, and then those dreams would influence your reality. I made these pillows for fellow Asian Americans or anyone who wanted to reconcile their American dreams with the realities of trying to achieve them.
Cathy Lu's residency runs from July 13 through August 26.
You can watch her full Artist Talk here.