Greenwich House Lineup of Events to Commemorate 120 Years of Serving New Yorkers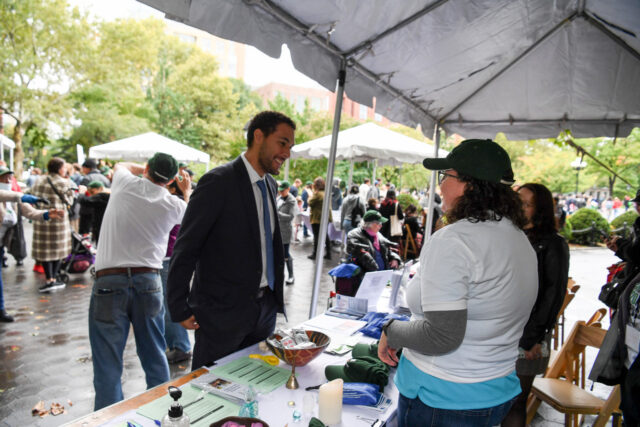 October 1st Event Kicks off Eight Weeks of Community Activities, Music, Performance, and Fun.
Greenwich House, the venerable settlement house that provides high-impact, multigenerational services, enrichment, and a sense of home to nursery schoolers, children, and adults of all backgrounds, announced a slate of community events to mark its 120th Anniversary celebration.
To kick off this season of celebration honoring the rich history and bright future of Greenwich House, on Saturday, October 1st, from 2:00 pm to 5:00 pm, Greenwich House Pottery, Music School, Youth Community Center, Older Adult Network, Barrow Street Nursery School, Methadone Maintenance Treatment Program, and Center for Resiliency and Wellness will come together at Garibaldi Plaza in Washington Square Park. Attendees can expect:
a series of musical performances highlighting genres from over the past 120 years featuring Jeffrey Sussman; (Mozart for Munchkins); JD Parran, Andrew Drury, Alexi Marcelo; (Dances for Variable Populations); Taka Kigawa; Ellen Winter; and Miolina (Lynn Bechtold, Mioi Takeda)
tablescape pottery, musical instrument petting zoo, face painting, and artmaking
workshops on tai chi, jewelry making, knitting, and NARCAN administration
After the kickoff event, each of Greenwich House's departments will be hosting specific community events (see below), and a benefit at Tribeca Rooftop on November 15th.
"We are so proud of the legacy of service at Greenwich House," said Darren Bloch, Chief Executive Officer of Greenwich House. "We were born in response to crisis and need and our teams of staff and friends over the years have maintained a legacy to evolve and innovate. And through epidemics, world wars, civil unrest, and crises of the entire 20th century Greenwich House has been a warm and welcoming source of support, enrichment, and community for all. But at every step, and with every curveball thrown our way, it has also been the consistent and generous support of neighbors from this community and beyond that has invested in the people, programs, and places. These events over these next eight weeks are as much a thank you, as a celebration as we get ready for another century of work across these communities."
Greenwich House opened its doors for the first time on Thanksgiving Day in 1902. At the time of its founding, Greenwich House's mission was to improve the lives of the predominantly immigrant populations of the Village and respond to the crises of that time. Over the next 120 years, the organization continued to grow and expand its social service offerings, which were built alongside arts, and cultural programs that developed into the now world-renowned Greenwich House Pottery and Music School, and highly regarded after-school options for kids and families. Its programs of today are consistent with its longstanding mission of building community and improving lives.
In addition to the kick-off event, also starting on Saturday, October 1st, is a progressive art project by the brilliant young minds at the Greenwich House Youth Community Center. The art project will be located in Greenwich House's flagship location at 27 Barrow Street. It will be available for viewing by all visitors to Greenwich House and serve as a dedication to Greenwich House and what it means to be part of its programs and services.
On Monday, October 17th, and Tuesday, October 18th, the children and parents of Barrow Street Nursery School (BSNS) will be outside the school at 27 Barrow Street from 9:00 am to 4:30 pm hosting a bake sale. All proceeds from the sale will support Greenwich House.
O Thursday, October 20th, the Older Adult Network will host a "Dance Through the Ages" prom-style event at Our Lady of Pompeii Older Adult Center (25 Carmine Street) from 5:00 to 7:00 pm.
On Friday, October 21st, at 4:00 pm The Pottery opens its doors for a Director-led tour of the building, and see where we make clay and glazes! Visit our 'Dirty Work' exhibition featuring 12 NYC-based artists and a studio visit with Beth Campbell, our current artist in residence,
To begin November, Barrow Street Nursery School will host "Welcome Back to Barrow" from Tuesday, November 1st to Friday, November 4th. Alumni of the nursery school will be invited back to read storybooks to their younger counterparts attending BSNS today. These events will take place each morning at 8:15 am at the library inside 27 Barrow Street. To conclude this week of fun, on Friday afternoon, BSNS will hold an ice cream social for alumni from 4:00 pm to 6:00 pm inside the gym at 27 Barrow Street for alumni and their families.
On the evening of Tuesday, November, 15th, Greenwich House will host their 120th Anniversary benefit at Tribeca Rooftop, located at 10 Desbrosses Street. The benefit will begin at 6:30 pm.
Anniversary celebrations continue following Greenwich House's anniversary of Thanksgiving; on Thursday, December 8th at 7:30 pm, Greenwich House Music School (GHMS) will be hosting the Dance Clarinets as they present the music of James Reese Europe concert in their theater at 46 Barrow Street. The concert will be followed by a panel moderated by musicologist Dr. Paul Austerlitz and featuring New York City music legends Bobby Sanabria, Elena Martinez, and Jimmy Owens.
For the full calendar of events click here.
About Greenwich House: Founded in 1902, Greenwich House is dedicated to enriching the lives of children, families, and seniors, and individuals working to overcome life's challenges through arts and education programs, senior services, and health services. Learn more at www.greenwichhouse.org.