Greenwich House Music School is the New Home of Bruce Wolosoff's Reflections in Music Concert Series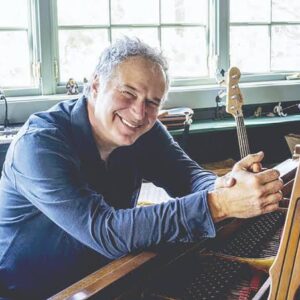 Greenwich House Music School will host the Reflections in Music concert series led by internationally renowned composer-pianist Bruce Wolosoff starting March 16, 2023, at 7:30 p.m.
The first concert, "Reflections on Inspiration," will feature Wolosoff performing selections from his upcoming solo piano album "Memento," which Avie Records will release on March 3.
"This concert is particularly meaningful to me as Greenwich House Music School has been a vital force in the community for musical education and performance for many, many years," said Wolosoff, composer and artistic director of the Reflections concert series.
As a non-profit organization, Reflections in Music seeks to bring in new audiences of all ages and backgrounds to classical music through performances and conversation. A discussion will follow Wolosoff's solo performance. Purchase tickets online or at the door for $20.
"It's a neighborhood institution that has had a powerful impact on the lives of many students and families, and New Yorkers who enjoy music and the arts," said Wolosoff.
That impact is something Wolosoff experienced firsthand when he was enrolled at Greenwich House Music School (GHMS) studying under his beloved teacher, Cuban pianist German Diez, a protégé of Claudio Arrau and chairman of Greenwich House's piano department for over 50 years. Wolosoff will fittingly begin his concert with a piece composed in memory of Diez, "I called the piece Siempre because he is always with me," said the composer.
Bringing the traditions of the past into the present is central to Wolosoff's musical language. His new album showcases a wide range of influences and inspirations from Purcell to Piazzolla, Chopin to Ligeti to Otis Spann.
"We're so excited to welcome Bruce back to GHMS!" says Rachel Black, Director of the Music School. "It's always a privilege to reconnect with our former students and in Bruce's case, we're thrilled not only to recognize the meaningful work he's created with Reflections but grateful for the opportunity to help sustain his mission of empowering young musicians and introducing classical music to more audiences through this new partnership."
Greenwich House Music School is located at 46 Barrow Street. The concert takes place on Thursday, March 16 at 7:30 p.m. Tickets are available for advance purchase online or in person at the door. Visit www.reflectionsinmusic.org for more information on the Reflections in Music concert series.