Greenwich House and Amazon's New Partnership Gives Resources to Older Adults
Greenwich House and Amazon Expanding Digital Literacy and Workforce Resources for Older Adults
The NYC nonprofit and Amazon have teamed up to open a computer lab at the new Lifelong Skills and Opportunity Center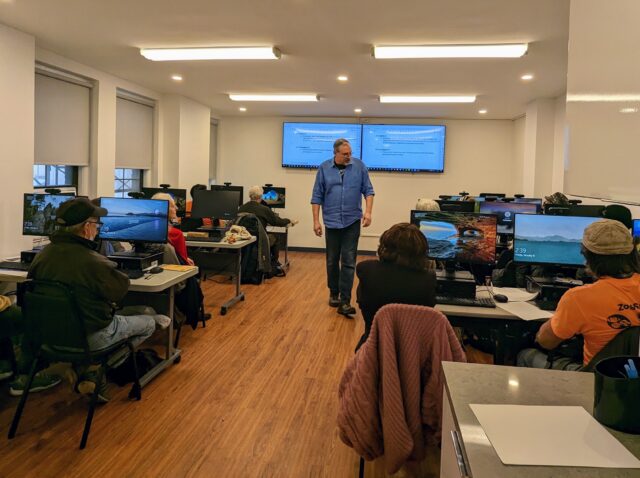 Greenwich House and Amazon are bridging the digital divide and empowering older adults with computer skills through the recent launch of a state-of-the-art computer lab at the newly opened Lifelong Skills and Opportunity Center.
The new computer lab features 12 desktop computers with printer access, two smart monitors, live-streaming cameras, and on-site technical support. Older adults will have opportunities to attend hands-on classes on topics ranging from Zoom 101, cyber security, launching an online business, and more. While free and open to the public, the Center is focused on improving the quality of life and workforce potential of older adults living in New York. Since opening in the fall, the Center has served over 50 New Yorkers and continues to roll out new programming.
Gregg Powell, a 73-year-old retiree, photographer, and multimedia artist, visits the computer lab daily to edit his photos and acquire new computer skills to enhance his entrepreneurial pursuits.
"My long-range objective is to establish a website to sell my work online," said Powell, who is a full-time artist, having retired from his careers in carpentry and computer programming, respectively, after 25 years. He lives on the Upper West Side and travels to Greenwich House daily to edit his photos and learn new skills.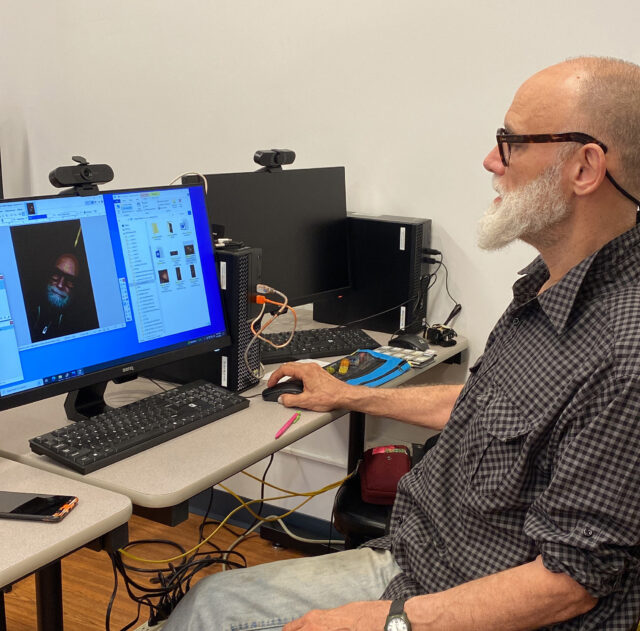 "I am also improving my word processing skills through a class here. I use Excel to create numerous tables and graphs to chart the events in my life."
Older adults are the fastest-growing segment of New York State's population, and with the cost of living rising and prolonged isolation during the COVID-19 pandemic, many older adults either need or want to return to the workforce. According to a report recently published by the Center for an Urban Future, the number of older New Yorkers living below the poverty line increased by 37.4 percent over the past decade.
Disconnecting from the most current digital tools and platforms or a lack of basic digital literacy are significant barriers to valuable connections. 41% of older adults do not use the internet, 23% do not use cell phones, and more than 75% say they require help when learning how to use new technology.
"In our rapidly-shifting economy, older adults need to expand access to digital literacy education and tools now more than ever. We are grateful to supporters like Amazon for equipping our Lifelong Skills and Opportunity Center with the devices older adults need to return to the workforce, whether out of desire or necessity," said Darren Bloch, CEO of Greenwich House.
"At Amazon, we're committed to ensuring everyone has the opportunity and support they need to grow their skills. We're thrilled to partner with Greenwich House to offer this space that connects New Yorkers with digital literacy education and each other," said Carley Graham Garcia, Amazon's Head of Community Affairs in New York. "From supporting STEM education for students across the globe to career advancement opportunities and prepaid tuition assistance for our employees, and supporting workforce development initiatives in the communities we operate in, we want to make it easy for people to pursue their goals."
"There are more older adults than ever before in New York City, but far too many of them struggle to navigate basic technology tools, a problem that negatively impacts their quality of life and makes it difficult for them to access critical services," said Jonathan Bowles, Executive Director of Center for an Urban Future. "This vital new investment is helping to bridge the divide, empowering older New Yorkers with the tools to live healthy and productive lives."
"Our city's economic success has been driven by older New Yorkers for generations. Committing to New York talent means building the scaffolding necessary to bring the best out of everyone in our workforce," said Greg Morris, CEO of the New York City Employment and Training Coalition. "Greenwich House and Amazon are helping lead the way in how we support and benefit from life-long learning. In reducing barriers to the digital literacy resources that keep older adults competitive for good-paying jobs they deserve, the Lifelong Skills and Opportunity Center serves as an important example of how we can increase equitable access to long-term employment and financial stability for New Yorkers of every age."
The Lifelong Skills and Opportunity Center is part of Greenwich House's network of five older adult centers throughout Greenwich Village, each with a specialized focus, from the arts to health. The program not only offers classes and training but connections to the wraparound social services that are necessary to support older New Yorkers returning to work.
Recently, the Center required significant upgrades to rooms and spaces. Through key investments from supporters like Amazon, Greenwich House can provide participants with the most current tools and platforms needed to build workplace skills for the modern economy.
To access services, contact Jessica Ramos Cuttone, Director of Workforce Services at Greenwich House, at workforce@greenwichhouse.org.
About Greenwich House:
Founded in 1902, Greenwich House is dedicated to enriching the lives of children, families, older adults, and individuals working to overcome life's challenges through arts and education programs, older adult services, and health services. Learn more at www.greenwichhouse.org.
About Amazon:
Amazon is guided by four principles: customer obsession rather than competitor focus, passion for invention, commitment to operational excellence, and long-term thinking. Amazon strives to be Earth's Most Customer-Centric Company, Earth's Best Employer, and Earth's Safest Place to Work. Customer reviews, 1-Click shopping, personalized recommendations, Prime, Fulfillment by Amazon, AWS, Kindle Direct Publishing, Kindle, Career Choice, Fire tablets, Fire TV, Amazon Echo, Alexa, Just Walk Out technology, Amazon Studios, and The Climate Pledge are some of the things pioneered by Amazon. For more information, visit www.amazon.com/about and follow @AmazonNews.