Meet the Nurse – April Line Up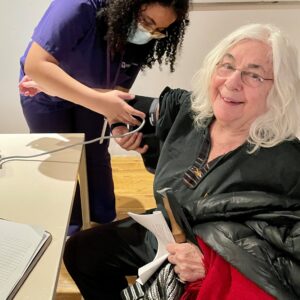 April 4: An Introduction to Dementia
This presentation is an introduction to Alzheimer's Disease and Related Dementia (ADRD). It will answer questions such as 'What is the difference between normal aging and dementia?' The presentation also explores the warning signs and stages of Alzheimer's disease.
April 11: Student Presentation
Topic coming soon!  
April 18: Healthy Eating 
This presentation covers what healthy eating looks like and why it is important to have a healthy diet. Additionally, we look at ways to modify dietary risks, such as reducing salt and fat intake when necessary. The aim of this topic is to help participants take charge of their diet and set realistic goals for themselves. 
HIGN and NYU Rory Meyers College of Nursing Schedule: 
Tuesdays 9 a.m. – 12 p.m.  
Our Lady of Pompeii, 25 Carmine St. New York, NY 10014  
Independence Plaza, 310 Greenwich St. 2nd Fl. New York, NY 10013 
Tuesdays 1 – 4 p.m.  
Westbeth Center, 155 Bank St. New York, NY 10014  
Center on the Square, 20 Washington Sq. N. New York, NY 10011