On View at Greenwich House Pottery: Midnight Sweat by Maura Wright
Exhibition on view through June 23, 2023
The Jane Hartsook Gallery is pleased to present Maura Wright's first New York City solo exhibition. In her mixed-media work, Wright points out the theatrics of art and life by mixing historical styles and purposefully disregarding the etiquette of the fields of craft and fine art.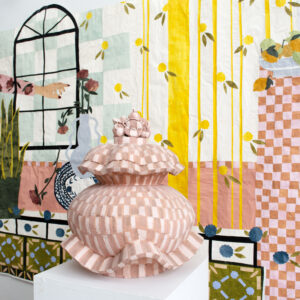 In this exhibition, Wright pulls from a grab-bag of forms and ornament that ranges from French rococo porcelain to the Florida beach-shop kitsch, mixing and matching styles and materials with abandon. Refusing to adhere to any boundaries—even dimensional ones—she puts two dimensional handles on urns and dares you not to laugh. Some works give the impression of a still-life come to life, while flat backdrops emulate volumetric interiors and lush garden scenes. What is real and what is imitation—what does it even matter?
Maura Wright is a Montana-based artist working across media. Wright earned her MFA from New York State College of Ceramics at Alfred University and her BFA from Kansas City Art Institute. Recent exhibitions include shows at Trish Martindell Gallery (Cincinnati, OH; 2023), LADIES' ROOM (Los Angeles, CA; 2023), Tinworks Art (Bozeman, MT; 2022). Wright has held residencies at Archie Bray Foundation, Red Lodge Clay Center, and Belger Art Center, among others. She is currently a long term resident at the Archie Bray Foundation.
CONTACT
JANE HARTSOOK GALLERY GREENWICH HOUSE POTTERY
16 Jones Street
New York, NY 10014
Kaitlin McClure, kmcclure@greenwichhouse.org Gallery & Residency Manager
(212) 242-4106 ext. 25
Gallery Hours: by appointment only
ABOUT GREENWICH HOUSE POTTERY
Greenwich House Pottery (GHP) is a ceramics center that has been supporting artists and promoting the field of ceramics since 1904. Starting with clay modeling classes in the earliest days of Greenwich House as part of its Handicraft School, the Pottery flourished with the help of the community and philanthropic support and remains a stalwart of innovation and art. GHP is dedicated to expanding public awareness of the diversity and complexity of ceramics and fostering the development of artists through internships, residencies, exhibitions and classes.