Greenwich House Awarded $1M Grant from NYS DOH to Expand Hep C Treatment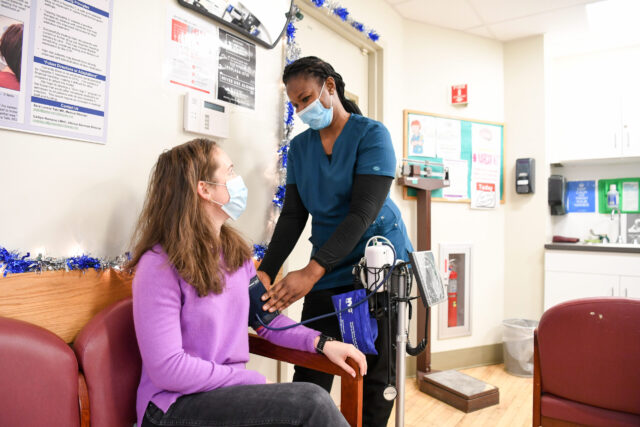 In a bold stride towards eradicating the Hepatitis C virus (HCV) as a major public health threat by 2030, Greenwich House received a $1 million grant from the New York State Department of Health (DOH) to bolster efforts to integrate life-saving treatments at its Methadone Maintenance Treatment Program (MMTP).  
"Opioid treatment programs have an essential role to play in the fight to eliminate HCV," said Dr. Sara Taki, Chief Medical Officer at Greenwich House, which has assisted thousands of individuals by treating opioid use disorder with high-quality, personalized care and support. New York City, New York State, and the Federal Government have all developed broad-reaching strategic plans to eliminate Hepatitis C by 2030, which includes prioritizing treatment for people with substance use disorder and providing HCV treatment in programs that treat substance use.
"Our approach is focused on centering the patients' needs and administering HCV treatments here at our clinic, instead of sending them to a doctor's office or hospital, which is a proven method of increasing the likelihood that someone will actually start treatment," said Taki, who envisions OTPs as epicenters of excellence for holistic addiction treatment that encompasses medical and mental health care for people with substance use disorders and improving quality-of-life.
Having these state funds will fuel Greenwich House's ongoing efforts to enhance its patient-centered approach to treating substance use disorders (SUD), incorporating harm reduction strategies while addressing social determinants of health.
"This grant from NYS DOH is a game-changer because we now have funding to expand our hepatitis c services, with the goal of treating every patient with hepatitis c who is enrolled in our opioid treatment program since 2018. Now we can expand our operational capacity and do more education and treatment engagement with our patients," Taki added.
GH MMTP staff administer services from a trauma-informed, culturally responsive, and stigma-free framework, focusing on patient goals and meeting people where they are. In 2022, GH treated 1,170 patients and provided 48,312 treatment services.
"I believe this expansion will build trust between providers and the people in this community, which so often doesn't receive the care it deserves," said Marlene Duckoff, MPAS, PA-C, while noting that medical advances have brought about a significant paradigm shift in treatment.
"There's no reason anyone should continue to live on with the hepatitis C virus, and community outreach is key to increasing understanding and reducing stigma. I'm excited to treat as many patients as possible and hope they will spread knowledge amongst each other about how accessible care is. I want people to know there is a cure for Hepatitis C."
Since the 1970s, Greenwich House's MMTP has served opioid dependent individuals with dignity and compassion as they receive individualized medical care, counseling and supportive services that help to improve their quality of life, promote self-sufficiency and connections within the community.
For more information about services, please visit the Greenwich House Methadone Maintenance Treatment Program's website at https://greenwichhouse.org/health-services/mmtp, email treatment@greenwichhouse.org or call (212) 677-3400.