#JustPay Advocacy Day!
Event Navigation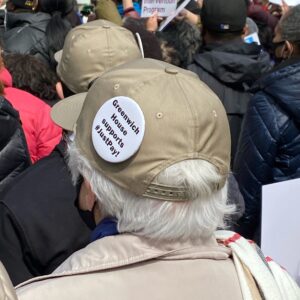 Join us for LiveOn NY's Annual Advocacy Day on the steps of City Hall as we advocate for our Older Adult Community! Each year, hundreds of Older Adults and aging service professionals will take to City Hall to demand their fair share of budget. We encourage you to join Greenwich House staff in this advocacy opportunity.
Details:
9 – 10:30 a.m. Breakfast and poster workshop at Independence Plaza, 310 Greenwich St. 2nd Fl. NY, NY 10013
10:30 a.m. Walk to City Hall (approx. half mile)
11 a.m. Rally!
We need at least 25 members to participate, let us know if you can join by RSVPing to Audrey Semple asemple@greenwichhouse.org
Mayor Adams has proposed over $12 million dollars in budget cuts to the aging sector's congregate and home delivered meals programs in a year when costs are greater than ever. Inflation has seen costs rise by over 25% for providers and has created new needs of over $60 million dollars. These cuts are only a fraction of a percent of the overall budget, but represent tens of thousands of meals and financial solvency for older adult centers throughout the city. There are currently 1.7 million older New Yorkers, the city's fastest growing demographic. 
Related Events