Miolina: A Benefit for GHMS
Event Navigation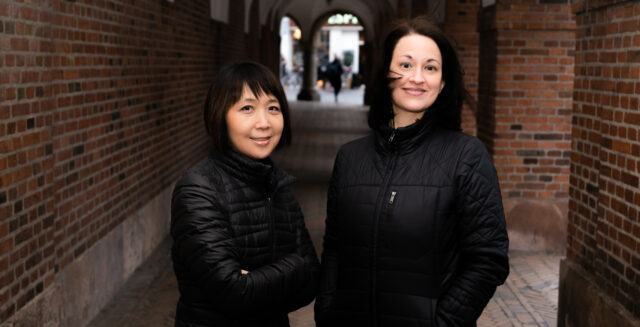 Violin duo, Miolina, is performing to give thanks to Greenwich House Music School.
Please join us for a half-hour live-streaming concert from the Renee Weiler Concert Hall on November 12 at 7:00 pm. This concert is donation-based, and free to all. Suggested donation of $20 can be made here at any time.
Faculty members Mioi Takeda and Lynn Bechtold, of the violin duo Miolina, perform four works by Ms. Bechtold for violin duo and fixed media electronics: Away/Home, Judy from Brooklyn, No Kendo, and Tears–a Lament, based on a song by Samuel Coleridge-Taylor. Miolina has been called "talented and dedicated" by Arts Birmingham, and described as displaying "aggressive and virtuosic prowess" with "brilliance of sound, technical mastery, and stunning expressivity" by I CARE IF YOU LISTEN.
Covid-19 has hit everyone hard, in many ways, but it has especially hit the arts and the faculty members of Greenwich House Music School. Concerts have been canceled, live performances are a ghost of what they once were, and many students have moved away, or are afraid to begin learning a new instrument remotely. Many faculty had to file for unemployment for the very first time in their lives. "It's a seriously fragile time for all of us," says Bechtold and Takeda. "We can't continue, however, if we don't have a place like GHMS, that welcomes everyone and nurtures musicians of all ages."
Lynn and Mioi welcome you to enjoy the concert, and ask everyone in our Greenwich House community to support the music school if you can. The concert will be live-streaming here.