The History of Greenwich House
The Founding
Greenwich House was founded by Mary Kingsbury Simkhovitch on Thanksgiving Day, November 27th in 1902. Originally located at 26 Jones Street, the settlement house's mission was to improve the living conditions among the predominately immigrant population of Greenwich Village, at the time New York's most congested neighborhood.
The first board members and  trustees included social reformers like Jacob Riis and Felix Adler, the father of American anthropology Franz Boas, noted economists Edwin R. A Seligman and Henry Seager, and future founder of the Whitney Museum of American Art, Gertrude Payne Whitney. Services focused on helping people adjust to life in a new country. Vocational skills were taught, low-cost housing was provided, and volunteers offered health and nutrition services for children and adults. Greenwich House became a center for agitating for social reform, and its early efforts resulted in the publication of the country's first tenants' manual, establishment of the Greenwich Village Improvement Society, the founding of United Neighborhood Houses and the 1916 zoning of the Village as a residential district.
These early years were memorialized in the 55th issue of Wonder Woman on July 23, 1952. Mary Kingsbury Simkhovitch was chosen for the "Wonder Women of History" section that was featured for the first year of Wonder Woman's run. You can read each page by clicking on the images below:
Watch the 120th Anniversary Short Film
Establishing Values
From its beginning, Greenwich House committed itself to the arts as a dynamic stimulus for cultural enrichment and individual growth. Music classes began in 1905 and the Pottery department was started in 1909. Through the generosity of Gertrude Payne Whitney, an arts school was started in the new Greenwich House headquarters at 27 Barrow Street when it opened in 1917. The original Art Committee included renowned artists like Daniel Chester French, John Sloan, James Fraser and Guy Pene du Bois. It was then that Greenwich House's reputation as a center of fine arts education and production surged. The arts programming expanded to the Arts and Crafts building at 16 Jones Street, opened in 1928.
Greenwich House quickly established itself as a pioneer social service agency, responding to the needs of the neighborhood with programs that were often the first of their kind in New York City. It also became a local center for nationwide efforts. Greenwich House served as the headquarters of the local Red Cross and helped the Food and Fuel Administrations distribute resources during World War One. As weekly attendance topped ten thousand during the Great Depression, Greenwich House became a partner for many of the New Deal's programs in providing basic social services. It had a particularly close relationship with the cultural activities of the Works Progress Administration. Simkhovitch's friendship with Eleanor Roosevelt enabled her to have President Roosevelt's ear about the direction of these services as they were rolled out across the country.
At that time, Simkovitch's aspirations reached beyond Greenwich House's walls. She had been the Chairperson of the New York State Board of Welfare in 1929, and was appointed Vice-President of the New York City Housing Authority in 1934. During her reign through 1948, Simkhovitch co-wrote the National Housing Act with Senator Robert Wagner, which was the first piece of legislation regarding the government's responsibility to aid low-income families with housing.
Arts Programming Flourishes
Meanwhile, Greenwich House's arts programming narrowed in on the Music School and Pottery. In 1913 the Music School moved to its own building at 46 Barrow Street, and then later acquired the adjoining brownstone to expand. Lessons were provided in a wider range of instruments and concerts were put on regularly, both within the school and at venues around the city like the Metropolitan Opera. Theater programs for both children and young adults were developed, including a couple dramatics clubs for teens created by then-resident Kirk Douglas before he left to chase his "somewhat egoistic pursuit to become an actor."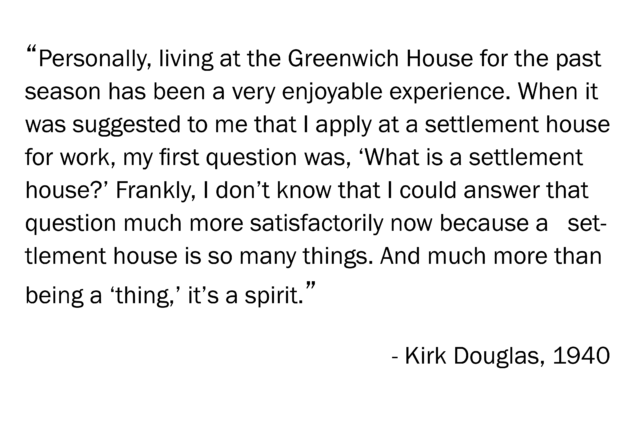 In the 1930s, Greenwich House Music School became a haven for avant-garde composers and musicians like Henry Cowell, John Cage, Carl Ruggles and Edgard Varese.  These musicians thrived in Greenwich Village and made the Music School's intimate concert hall their own.  They were followed by other notable performers including composer Morton Subotnick, pianist Taka Kigawa and harpist Brandee Younger – all were or are faculty at the Music School.
The artists who worked in the Pottery's studios were gaining recognition. Two pieces produced at the Pottery were purchased by the Metropolitan Museum of Art and three pieces were exhibited at the 1939 World's Fair. When Jane Hartsook was appointed director in 1945, she began a period of expansion for the Pottery, opening its doors to world-class artists like Peter Voulkos to teach and work in their studios. One biographer suggests that Jackson Pollock's inspiration for his unique drip paintings happened while working around glazes as a janitor at the Pottery to pay off a class.
Growing With the Needs of the Neighborhood
Social services continued to expand to address the needs of underserved age demographics. Earlier, Greenwich House opened the first official day-care center for children in 1920 to help a new community of working mothers. Then, in 1942 it started the first after-school child care program in the city. As concerns about juvenile delinquency rose in the latter half of the twentieth century, Greenwich House was one of the few places that provided activities and extracurricular education for teenagers. Greenwich House also turned to the neighborhood's aging community, starting an "Over 65 Club" in 1955 and then its first Senior Center in 1966. The Senior Health and Consultation Center began in 1974, a unique program that provides mental health services and health services related to the particular needs of the elderly, and one of the only that offers these services in home visits.
The 1960s brought new concerns to the Greenwich Village community and Greenwich House was as responsive as ever. In 1963 it received a grant from the National Institute of Health to establish the first walk-in outpatient counseling center for drug treatment in New York. When it opened in 1964 as a psychiatric clinic, it was the first in the state exclusively for narcotics addicts. The Methadone Maintenance Treatment Program began in 1970, another first for the city. Greenwich House was also the first and, for years, the only organization to respond to the AIDS crisis in New York by starting the AIDS Mental Health Project in 1987 and creating a Primary Care Initiative for AIDS patients. When the community was shocked by the notorious Lisa Steinberg child abuse case and called for greater child abuse prevention services, Greenwich House stepped up to the plate by starting the Children's Safety Project in 1987 to provide prevention, counseling and treatment services for children suffering from trauma and abuse.
Greenwich House continued to adapt to the changing neighborhood throughout the 1990s and 2000s, sustaining or shifting programs as needs called for it and always staying true to Mary Kingsbury Simkhovitch's original vision of establishing a hub for community, social services and the arts for all New Yorkers. Today, Greenwich House provides early childhood education, after-school and summer arts programs, performing, visual and music arts and education, mental and behavioral health services for toddler, children, adolescents, adults and seniors.
Our Archives
You can search the Greenwich House Archives at the Elmer Holmes Bobst Library Special Collections Center which houses collections of our historic photos, documents and other materials.