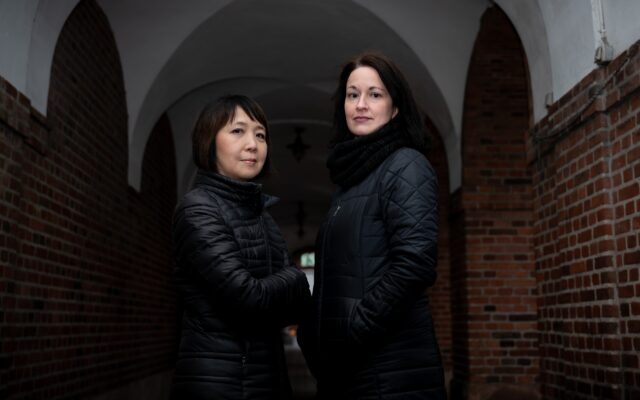 Miolina members Mioi Takeda & Lynn Bechtold
Violin duo Miolina (Mioi Takeda & Lynn Bechtold, violins) has been called "talented and dedicated" by Arts Birmingham, and described as displaying "aggressive and virtuosic prowess" with "brilliance of sound, technical mastery, and stunning expressivity" by I CARE IF YOU LISTEN. A member of New Music USA's Impact Cohort, Miolina has been attracting audiences since their inception in 2012. Mioi and Lynn are creating and shaping the violin duo repertoire of the 21st century. They have always made the performance of works by women, minority, and immigrant composers a top priority.
To date, Miolina has premiered dozens of violin duos. They have had successful shows in NYC at venues such as National Sawdust, Culturelab LIC, the National Opera Center, Tenri Cultural Institute, (le) Poisson Rouge, Spectrum, KGB Espionage Museum, Rockwood Music Hall, Gallery MC, and Parsons School of Design. They've also performed concerts around the U.S. and abroad in Birmingham, Boston, Chicago, Copenhagen, Los Angeles, Malmö, Pensacola, Philadelphia, San Francisco, Washington DC, Paris, Tokyo, and Tuscaloosa.
Miolina has participated in festivals/residencies/series including Avaloch Farm, Birmingham New Music Festival, Collaborative Arts Research Institute/University of Alabama, Composers Concordance, Concrete Timbre, C-Y Series, Electronic Music Midwest, Infuse Présente, NWEAMO, North/South Consonance, and Sonic Circuits. They are recipients of numerous grants including Adami, American-Scandinavian Foundation, Japan Foundation NY, Lower Manhattan Cultural Council, New Music USA, and New York Women Composers. As part of their outreach and educational programs, Miolina has performed at senior centers and soup kitchens, and have given masterclasses/held residencies at The Alabama School for the Blind, CUNY-Queens College, The Juilliard School, Rutgers University, the University of Alabama, and UC Irvine. Recent recordings include an album featuring works by composers of the Birmingham Art Music Alliance. 'à la BAMA' was released in March 2021 on CCR/Naxos. Other albums include their debut album 'Miolina,' released in 2018 on CCR/Naxos; 2020's 'Le Passager,' performing Jean-Baptiste Favory's large-scale work UNISONO V, on label ACEL; and 2020's 'Symbolic Gesture,' performing Flower Cat's KIRLIAN, on Bandcamp.