Private Lessons at the Pottery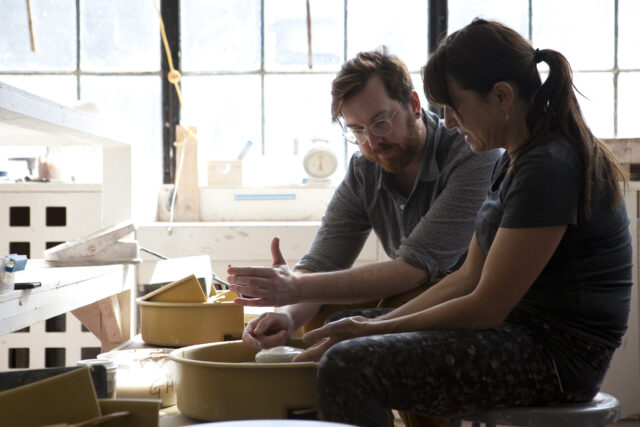 Greenwich House Pottery is pleased to welcome individuals and small groups for private 2-hour classes or parties for students of all levels. We generally hold private lessons or events on Friday evenings, Saturday, and Sunday mornings and afternoons, or Monday mornings. We ask for at least two weeks' notice prior to your event in order to book rooms and faculty members accordingly.

Private lesson students can expect to fire and keep at least one piece from their private lesson. Students will pick a glaze from our in-house selection during their lesson, which Pottery staff will apply after the first firing. Tools are provided, and student work will be ready for pick-up approximately 4-6 weeks after the scheduled lesson or event.
The prices below allow each participant to fire and keep 1 piece of pottery per lesson. Additional pieces are $10 each. those enrolled in 3 or more private lessons per term pay firing fees at a rate of $0.06 per cubic inch. Private lessons are generally two hours long, but longer lessons can be arranged.
Private Lesson Rates 
Single 2-hour lesson for one student: $225
Single 2-hour lesson for two students: $285
Interested in gifting a private lesson to someone? You can purchase a gift card for either lesson type here.
Private Group Events 
Because groups of 3 or more students require us to close a classroom, they are technically considered events. The rates below are not inclusive of a $10 flat firing fee per student, which allows them to keep up to two pieces of pottery.
Small group: 3 to 5 students for 2 hours, $750. Add an additional hour for $150.    
Full class: 6 to 10 students with 1 instructor for 2 hours, $1,300. Add an additional hour for $250.
Large event: 11-20 students: $2,600 (Larger groups will be split between two classrooms due to our occupancy limits.)
If you are interested in scheduling a private lesson or party, please contact Megan Lee: mmlee@greenwichhouse.org.
For other rental inquires such as filming opportunities or on-site events, please contact Fabio Fernandez, ffernandez@greenwichhouse.org.
Private Lesson Cancellation and Refund Policies
Payment in-full is required to confirm your private lesson booking. 50% of your payment is considered a non-refundable deposit.
Cancellations made at least 24 hours in advance of their lesson may receive a 50% refund, not inclusive of the deposit.
No-shows or cancellations made 24-hours or fewer in advance are not eligible for a refund.
Those who need to reschedule their lesson or event must request to do so at least a week in advance in order to coordinate faculty members and classroom availability. Please note that due to the intricacies of our scheduling process, we may not be able to accommodate all switches.