50th Anniversary of Stonewall is Remembered by Greenwich House Pottery Resident Artist Phoenix Lindsey-Hall
June 14th, 2019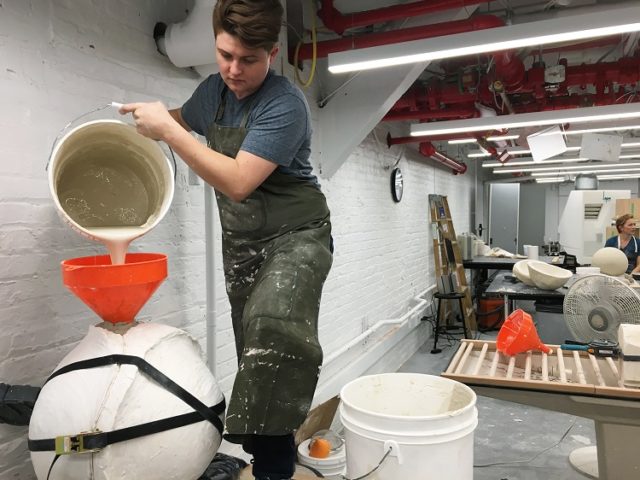 Phoenix Lindsey-Hall, a ceramicist, photographer and mixed media artist, has a story to tell, and what better time to share her story than during the celebration of Stonewall. Lindsey-Hall explores themes related to queer communities and violence perpetrated on them. Originally focusing on photography, earning degrees from Parsons and Savannah College of Art, Lindsey-Hall more recently has been drawn to new mediums— particularly ceramics. "The picture plane was too flat and distancing for the more conceptual work I wanted to do," Lindsey-Hall explains from her studio at Greenwich House Pottery, where she is currently a Fellowship Artist.
So she began experimenting with clay, which seemed like a natural choice for a new medium. "With clay, it has to have a relationship to the body in order to work with it. You even refer to it as 'the clay body' before you've turned it into anything. It's very physical. It performs based on how you push and pull it; it has to be manipulated. If you push it too hard, it breaks. There's a metaphor within the material for how it can be used to discuss violence." In early bodies of work, Lindsey-Hall created ceramic sculptures portraying everyday domestic objects that have been used in hate crimes against LGBTQ victims. The use of clay allows these objects to be contorted to reflect that violence, with the evidence of the human hand that shaped them creating a sense of intimacy both of the physicality of the crime itself and the act of remembering those who suffered.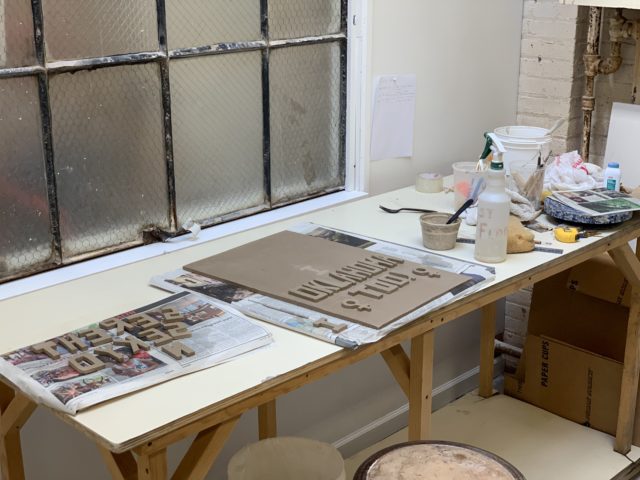 The timing of Lindsey-Hall's fellowship coincides with Pride Month, and the celebrations around the Stonewall Inn — perfectly fitting both for her work and residency at nearby Greenwich House Pottery. "I'm steps away from Stonewall here. Even when I'm not in the studio, being in this neighborhood gives me a chance to really connect with my community. I'm not isolated like you sometimes can be with other residencies." Spending time at a place that integrates into the community as much as the Pottery does is already reflecting in her work. "One of the projects I've been inspired to do is to remake historical elements of the structure of Stonewall. I'm remaking an old sign that used to hang outside the bar as a large-scale clay sculpture."
Lindsey-Hall will continue to work at the Pottery through June 28th. During her stay at Greenwich House Pottery, Lindsey-Hall will be building on her years of working in photography and experimenting with the Pottery's diverse collection of glazes to see how far she can push her unique technique of screen-printing photographic images onto clay. "I'm building up layers and playing around with different combinations of colors and techniques. The studio technicians have a deep wealth of knowledge that has helped guide me while I'm here. I can also scale up and work on larger sculptures with access to the Pottery's studio and kilns." Her work will be on view at the Jane Hartsook Gallery's annual Ceramics Now exhibition later this year.