In Memoriam: Beatriz Roman, Greenwich House Music School Piano Teacher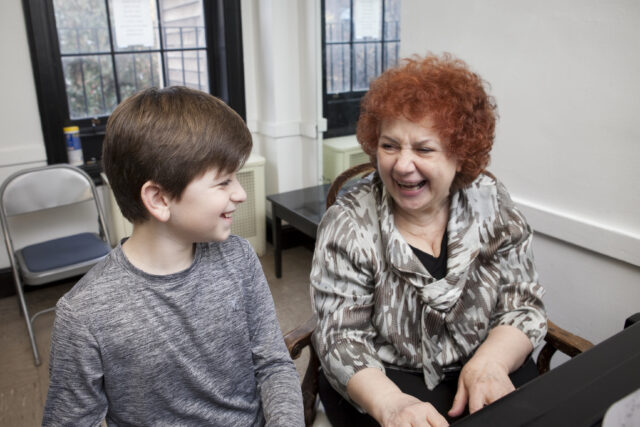 A message from Rachel Black, Director of Greenwich House Music School:
It is with great sadness that I must tell you our dear piano teacher, Beatriz Roman, passed away Monday, May 18th, 2020 after a short (non-COVID) illness. Beatriz's immense talent and warm smile will be deeply missed by us all, colleagues, friends and hundreds of students she has touched over the past 22 years.
Beatriz Roman was originally from Brazil, and had been on faculty with us since 1998. Her specialty was 20th and 21st century music, most notably, John Cage, Henri Pousseur, and Gilberto Mendes. She performed compositions by John Cage at Carnegie Hall and collaborated with the composers Sorrel Hays and Tania León. Besides performing as a soloist in recitals, Beatriz held many master classes in Contemporary Music at international festivals in Brazil, Europe, and the United States.
Beatriz held a Doctorate in Musical Arts from the Graduate Center CUNY and her doctoral dissertation was on the piano music of John Cage. She also studied in Germany with Professor Aloys Kontarsky, and attended contemporary music courses by Vinko Gobokar, Peter Eötvös and in Paris, seminars by Pierre Boulez.
Our piano faculty member Joe Ries mentioned to me that they used to study under the same teacher and he recommended her to join the faculty in 1998. He remembered that Beatriz was able to memorize people's phone numbers through Solfege notes! Several of our teachers have noted that she would stop by their studios to talk to them about whatever piece they were practicing and that she always had warm and positive things to tell them.
I would sometimes watch her during Greenwich House recitals, observing her students perform. She would sit forward on her chair, leaning on her cane, and the look on her face was always one of complete and utter pride. One of her students remarked that she was one of the best people she had known – gifted, brilliant, kind, and caring. Another student called her a "life force." The photo above is one of her that we used a year or two ago in our brochure. In it, she's teaching one of her long time students, Ben Rafal, and you can see from the photo the very essence of her spirit. She was such a joyful woman and loved teaching. We will miss her dearly.
We are planning to organize a memorial concert in her honor when we can all be together again. In the meantime, if you would like me to pass a note to her husband Michael, please email me directly at rblack@greenwichhouse.org.
I would also like to share an archival video of her performing at one of our faculty recitals. In this recital, held on March 17, 2017, she performed "Choros No. 5, "Alma Brasilseira" by Villa-Lobos at time stamp 33:24.
May her memory be a blessing.