Greenwich House Bids Farewell to Pottery Director, Adam Welch
August 25, 2020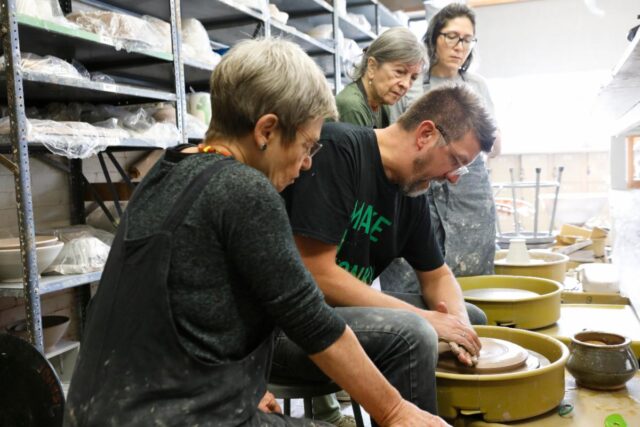 After 17 years of serving the Greenwich House Pottery community, 10 of which as Director of the Pottery, Adam Welch will be departing on August 28th to join the Arts Council of Princeton as Executive Director. Under Adam's leadership, the Pottery became one of the most sought-after ceramics schools on the east coast, and the exhibition and artist residency programs flourished as a hub for the country's most exciting ceramics artists. Along with his work at the Pottery, Adam taught at Princeton, frequently exhibited his work in galleries around the country, and regularly published essays and reviews in arts publications.
"This has not been an easy decision," Adam said. "These years have been formative, shaping my understanding of community and the power of art. It has been one of my great pleasures stewarding the Pottery into an internationally renowned ceramic art center in the heart of the art world."
We are grateful for Adam's vision and creative contributions to the Pottery and wish him great success as he enters the next chapter of his career, inspiring artists of Princeton. As we continue the search for the next Director to lead the Pottery and support our passionate community of artists, Education and Events Manager, Jenni Lukasiewicz will serve as Interim Director. Jenni has been with Greenwich House for close to 6 years, offering exceptional dedication and commitment to her work, her team, and the community. She first joined as an Education Coordinator and was promoted to the current position in 2018.
"When Lisa handed me my keys back in 2014, I felt I had my new home," Jenni said. "Lisa's administrative shoes were hard to fill and Adam's feet are much bigger, but I know we will get through this time of change together. GHP is an incredibly special place. I love our community and our studio and I am happy to be able to provide everyone at GHP with continuity and reassurance during this difficult and strange time. I am ready to implement our plans to keep the Pottery moving forward and get our community back into the studio safely."
Darren Bloch, CEO and Executive Director of Greenwich House, views the future of the Pottery with excitement and promise. "Our hope and goal, as we undertake our search for a new Pottery Director, is that we bring in an energetic and visionary new leader who continues to support our passionate community of artists, finds ways to expand that community, and furthers Greenwich House's historic mission of service to New Yorkers in the West Village and beyond."