Margrecia Mindell Brings the Joy of Dancing to Seniors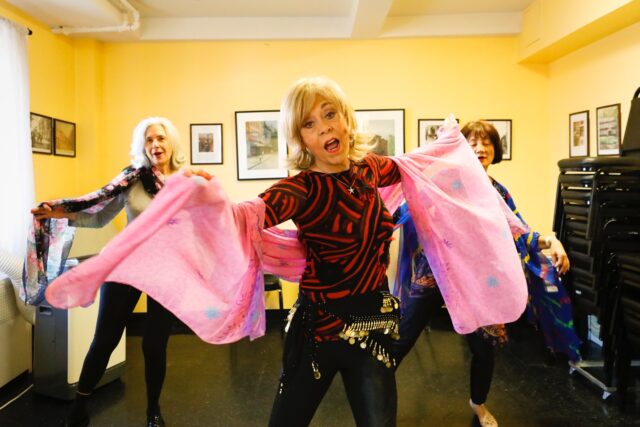 Margrecia Mindell has been dancing every day for the past fifty years and is not letting quarantine stop her. A dance and exercise teacher at Greenwich House Senior Centers since 1995, Margrecia first considered dancing as a career in her twenties after modeling for belly dance music album covers. She had kept the job a secret from her husband because she figured it would be too provocative, but when her nephew discovered the album at Sam Goody and her husband reacted with pride rather than disappointment, Margrecia turned her sights on dancing. Soon, she found a flyer for belly dancing lessons and never looked back.
After taking lessons for a few years, Margrecia was hired by the New York Board of Education to begin teaching dance in the schools and continuing education programs. As the only certified Middle Eastern dance teacher in the system, the demand for her classes was high. At the same time, Margrecia expanded her expertise to include aerobics, ballroom dancing, the hustle, tap dancing, and line dancing. "I was teaching 25 classes a week all over the city, going out to the discos and dancing with my husband three nights a week. I danced every day," said Margrecia. "My husband encouraged me to teach because he said I would dance more as a teacher than I ever would as a dancer, and he was right." In the '90s, job offers began to slow down, and rather than pursue legal action for suspected age discrimination, Margrecia began to focus on teaching seniors at the suggestion of a friend. "I wasn't sure center directors would think I was a good fit because I was wearing my hair long like Cher, bangles up to here, necklaces down to there, I had my gorgeous homemade costumes, but they loved me right away." She's taught dance and fitness at nearly every senior center in the city since, along with leading programs for Alzheimer's and Parkinson's patients in healthcare facilities.
Margrecia has taught several belly dancing, line dancing, and fitness classes a week at Greenwich House, and is an important figure on the social scene as the person tasked with getting the dance floor started at parties. Since the shut down, Margrecia has adapted almost all of her classes — and her role at parties — to our online programming format, teaching herself Zoom with the same gusto as she's taught herself to be a dance teacher all these years. "I started teaching aerobics because the secretary at a school told me people were starting to ask about aerobics, so I bought the one book on aerobics at the time, read it cover to cover, said 'this will be a piece of cake,' and started teaching," Margrecia said. "I'd take a line dancing class in the beginning of the week and turn around and teach what I learned to my line dancing students at the end of the week. I'd be scribbling notes on toilet paper about what I was picking up at the dance club Denim and Diamond with my husband to bring to my class. It's the same now with Zoom; I'm taking three classes a week on how to use all the technology and how to teach virtually so I can make my classes as good as they can be."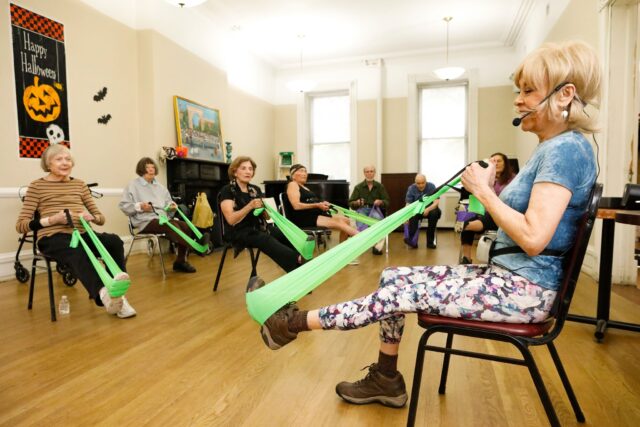 Teaching and taking dance classes at home is hard enough with the barriers of technology and the space available in New York City apartments, let alone with being mindful of seniors' mobility, but Margrecia knows it's more important than ever. "We've got to keep moving, we can't sit around our houses doing nothing until the pandemic is over, because the less you move the harder it becomes to keep going," said Margrecia. "I walk up and down the stairs, even if it's not the best for my knees, or just take a walk around the block. Try and stand whenever you can. Remember to move your fingers, wiggle your toes, lift your heels, even small movements like that are so important at our age. Play games like holding a pencil in between your toes and try to write your name on a piece of paper — that's a physical therapy exercise I learned. If you drop something on the floor, try and pick it up from a little further away so you have to stretch to reach it. Anything helps."
Above all, though, Margrecia strives to teach the joy of dancing to her students. "Dancing is the most fun thing in the whole world," she says. "The music, the movement, losing yourself in moving your body. When you're dancing, you're not thinking about anything else. The people at Greenwich House are a really special group of people, and I love laughing with them and giving them a break. There's a lot of terrible news happening all the time, but for an hour we get to forget about all that." Programming at Greenwich House Senior Centers certainly wouldn't be the same without Margrecia's joi de vivre, and it has been such a thrill for staff and members alike that her classes are still going strong.