First-of-its-Kind Workforce Center for Older Adults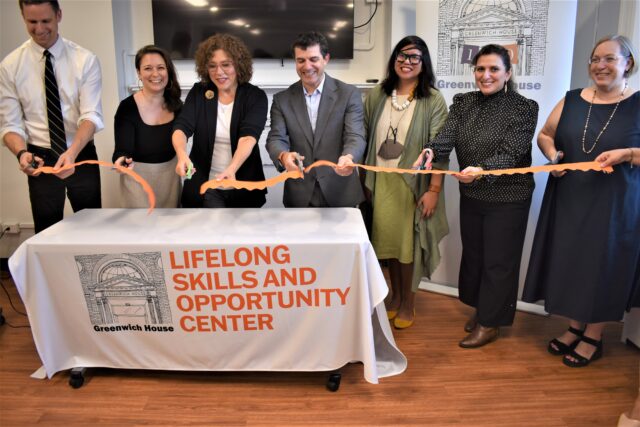 Greenwich House Opens First-of-its-Kind Workforce Center for Older Adults
The rising cost of living, inflation, and senior poverty rates mean more older people on fixed incomes need the skills and opportunities to return to work 
(New York, NY) – The settlement house Greenwich House, which has provided high-impact, multigenerational arts, education, social, and health programming for 120 years, has opened its Lifelong Skills and Opportunity Center. The new workforce center will occupy more than 5,000 square feet—an entire floor—at 27 Barrow Street and dramatically expand Greenwich House's workforce development programming, particularly for older adults.
With support from the NYC Department for the Aging (DFTA), Greenwich House is launching this new workforce program at a time when poverty among older adults is on the rise and at the highest levels in nearly two decades. This first-of-its-kind, one-stop-shop for older adults who want, or need, to return to work will offer classes on topics like digital literacy; personalized resume and job search support; partnerships with employers who are eager to hire older adults and tap into their experience; and training and certification courses.
 The Center will also be open to other communities who face barriers to entering or re-entering the workforce, including those participating in mental health and recovery services.
"We are thrilled to open the Lifelong Skills and Opportunity Center with support from the public and private partners, who also see a deep need to expand resources for older adults returning to work—whether out of desire or necessity. This program will be a boon for older adults, and also contribute to the resilience of our local economy by connecting companies with employees who have years of experience," said Darren Bloch, CEO of Greenwich House. 
At a time when many sectors are struggling to fill open positions, this program will benefit local businesses by connecting them with experienced workers with decades of professional experience. The workforce program is part of Greenwich House's network of five older adult centers throughout Greenwich Village, each with a specialized focus, from the arts to health. The program will offer not only classes and training but connections to the wraparound social services that are necessary to support older New Yorkers returning to work.
"The new Lifelong Skills and Opportunity Center will provide needed workforce development assistance that will enhance the financial security of New York's older adult population," said Department for the Aging Commissioner Lorraine Cortés-Vázquez. "We commend Greenwich House on this important work, which helps make the city even more age-inclusive."
"Greenwich House has long been a cherished community resource offering a range of high-quality services and programming, and I am delighted to see them continue their great work with the launch of their Lifelong Skills and Opportunity Center. Older adults have expertise and skills to contribute to the workforce, and Greenwich House's new program will help participants enhance those skills and deepen their knowledge at a time when more older adults may need to return to work to help meet inflation and the rising cost of living," says Deborah J. Glick, New York State Assemblymember, District 66.
"The Lifelong Skills and Opportunity Center is proof that Greenwich House continues to be a vital resource for the older adults in our community. I am proud to support this program that will benefit not just the participants, but the small businesses and communities in which they will work," says Christopher Marte, New York City Council Member, District 1. 
Support for the Center was provided by DFTA, Amazon, Crown Castle, Pinkerton Foundation, Fan Fox and Leslie R. Samuels Foundation, and the Isaac H. Tuttle Fund. The reimagined and renovated Center required significant upgrades to rooms and spaces, including several key investments in the technology infrastructure, to provide participants with the most current tools and platforms needed to build workplace skills for the modern economy. 
To access services, contact Jessica Ramos Cuttone, Director of Workforce Services at Greenwich House, at workforce@greenwichhouse.org.
About Greenwich House: Founded in 1902, Greenwich House is dedicated to enriching the lives of children, families, and seniors, and individuals working to overcome life's challenges through arts and education programs, senior services, and health services. Learn more at www.greenwichhouse.org.