Greenwich House Pottery Offers Sampler Classes for Newbies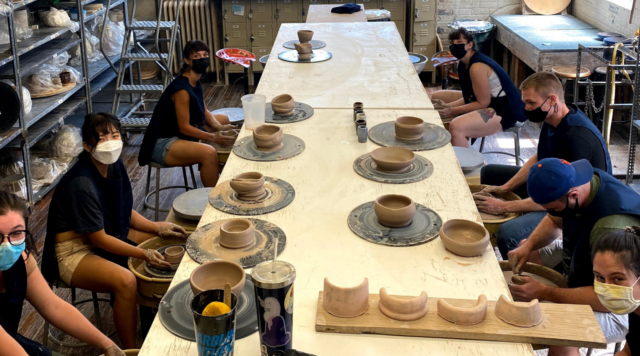 Take a one-time class with Greenwich House Pottery!
Registration is open now.
New to clay? Want to give it a try without committing to 6 or 12 weeks? Join us for an introductory class! Take a 2-hour handbuilding or wheel class. You can expect to complete one project in clay, choose a glaze and GHP will glaze and fire your piece to take home! Clay, glazing, and firing are included in the price of tuition. You will be contacted 3-6 weeks after the class to collect your finished piece. These classes are intended only as an introduction for individuals who have never taken a class at GHP.
Sampler students are not eligible for studio time or drop-off firing services at Greenwich House Pottery. Participants must be 18 years of age or older. Before registering, please take a moment to read the Sampler Registration Policies:
Sampler students must cancel at least 1 week in advance of their Sampler to receive a refund in full.
Requests made less than a week in advance of your Sampler will receive a 50% refund.
Transfer requests must also be made a week in advance, and may be accommodated if there's room in the requested Sampler.
Choose between handbuilding or the potter's wheel below. When you have selected a class you will be prompted to choose the date that you would like to attend by selecting from the drop-in calendar when you click "Register".