Women's History Month HERStory: Community Leader Beth Kerr
"You wanna live in New York? Get in your [expletive] car and move to New York!"
That was the advice given to me by Bette Kerr, my manager at The Gainesville Sun, who had been seeing me mope around the office for months as an unhappy employee. Bette Kerr.  Dynamic, energetic, a straight-talker, tough, honest, sincere and one of the most generous individuals one could know.  A true salesperson who spoke easily and frankly with anyone—auto salesmen, real estate agents, the men in the pressroom, the mayor and local dignitaries.
Bette was a woman large in stature and in heart. At the start of her career, she was determined to be an advertising salesperson. She couldn't type or spell and failed the employee aptitude test, yet she got herself hired. It wasn't long before she became the top salesperson at The St. Petersburg Times, eventually moving to Gainesville and earning similar honors.  She was the single mother of a brain damaged daughter and was determined to give her daughter a positive life, and succeed she did.
Bette organized parents of special needs children who attended her daughter's school to work toward making more learning opportunities available to their children. She founded the fundraising arm for The Opportunity Center, a nonprofit whose mission was to help adults living with mental illness lead independent lives; she was a charter member and treasurer of the Gainesville Advertising Federation; and the Chairperson of the Gainesville Girls Scout Cookie Chairperson, where the young women boasted high sales record high in cookie sales; honored by the U.S. Chamber of Commerce for her record membership sales. Bette promoted women in business and stood at the forefront in the community.
I walked into the classified ad sales telephone room on my first workday. I knew nothing about advertising, nor about newspapers, nor sales.  A tight little room, five desks touching each other, every person speaking on the phone, and other phone lines ringing like crazy.  Bette said to me, "Sit at that desk (pointing to one unoccupied), pick up the phone, say "the Gainesville Sun Classifieds," find out what they are calling about and then put them on hold."
Bette Kerr, community leader, taught me to take control of my life and no matter the challenge or obstacle, jump in and simply get it done.
I followed her advice in 1974 and moved to NYC. Here I met the second B who was also a strong influencer in my professional life.  I'll save that B for next year's Woman's History Month.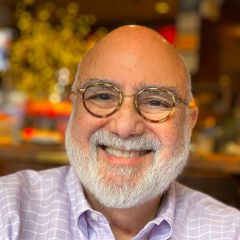 By Jose Valdez, Director of People and Culture, Greenwich House