Off-Broadway Weekend Features Comedian Jo Firestone and Older New Yorkers June 2-4

In a display of remarkable talent and ageless artistry, comedian Jo Firestone and older adults from all boroughs will take center stage June 2 – 4 at the historic Greenwich House Theater.
From Open Mic Night to an empowering cabaret and a hilarious comedy gameshow, the Off-Broadway Weekend at Greenwich House promises to be a celebration of creativity, community, and the performing arts.
"We're excited to offer a weekend full of entertainment, laughter, and artistic exploration for Greenwich House older adults and those throughout the city," said Laura Marceca, Director of Older Adult Services at Greenwich House. "These events provide a platform for creativity, community engagement, and the celebration of older adult performers who are taking writing, comedy and poetry classes here."
Open Mic Night kicks off the festivities on Friday, June 2, at 5 p.m. Members of Greenwich House's Older Adult Network will share their talents and passions through poems, songs, stories, monologues, and more. All performers who want to participate should send an email to olderadults@greenwichhouse.org for a chance to take the spotlight. Performances must be kept under 5 minutes to ensure everyone gets a chance to shine. This event is free and promises to be an evening filled with artistic expression and inspiration.
To buy tickets, visit bit.ly/3M9IQNB
On Saturday, June 3, at 5 p.m., Theater for Change presents "Tenants in Crisis: A Cabaret!" This powerful performance tells the story of a group of long-time West Village tenants who face challenges such as rising rents, a heartless landlord, and difficult neighbors. Their solution? Putting on a cabaret and seeking the audience's advice. In this performance YOU can help the tenants navigate their struggles and build a stronger community. Admission is free to this engaging event that offers a unique opportunity for our members to engage with an intergenerational audience and ask, "how can we make older tenant's housing more stable and fairer?" To buy tickets, visit: bit.ly/44VYd4R
"It not only gives our group a chance to act [out] a problem that we have all maybe thought about or experienced, but it's wonderful that the audience really has a chance to participate. And they are eager to participate, and they come up with ideas. So, it's really a community endeavor, which is admirable," Edie, Theater for Change participant and Greenwich House member.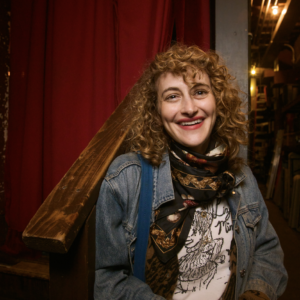 Closing the Off-Broadway Weekend on Sunday, June 4, at 5 p.m. is "That's My Buzzer!" a side-splitting comedy gameshow hosted by comedian and actor Jo Firestone. Firestone's work can be seen on Joe Pera Talks With You, Ziwe, Teenage Euthanasia, The First Lady, Shrill, and more.
She co-hosts the podcast "Dr. Gameshow" with Manolo Moreno on the Maximum Fun network. Her album "The Hits" is available on Comedy Central Records. She has created 3 specials, "Good Timing with Jo Firestone" on Peacock, "Rate The Cookie" on Adult Swim, and a half hour for Comedy Central. She is the co-creator of the best-selling card game "Punderdome: A Card Game for Pun Lovers."
"That's My Buzzer" showcases the comedic talents of members from Greenwich House Older Adult Centers alongside some of New York City's finest comedians, including Barbara Bova, Nicki Cochrane, Orlando Dole, Alix Elias, Lynne Fetch, Teresa Hommel, Cam Kornman, Evana Lewis, Rebecca Maiden-Dole, Richard Marshall, Tom Padovano, Barbara Reiter, Zygy Susser, Helaine Witt, Helen Yalof Norm, and Needleman Bibi Elvers. Prepare to laugh out loud as the contestants compete for the ultimate comedic victory.
All proceeds from this event go directly to the performers, supporting their dedication to bringing laughter and joy to the stage.
Purchase your tickets online at bit.ly/3pmTEQu or at the door for an evening of non-stop laughter.
About Greenwich House's Older Adult Center Network:
With 4 center locations across lower Manhattan, Greenwich House provides a vibrant community space dedicated to enriching the lives of older adults through diverse arts and health programs, social activities and events. With a focus on creativity, wellness, and social connections, each center provides a supportive environment where individuals can continue to learn, grow, and thrive. The Off-Broadway Weekend serves as an exciting extension of these efforts, showcasing the immense talent and vitality of the center's members.