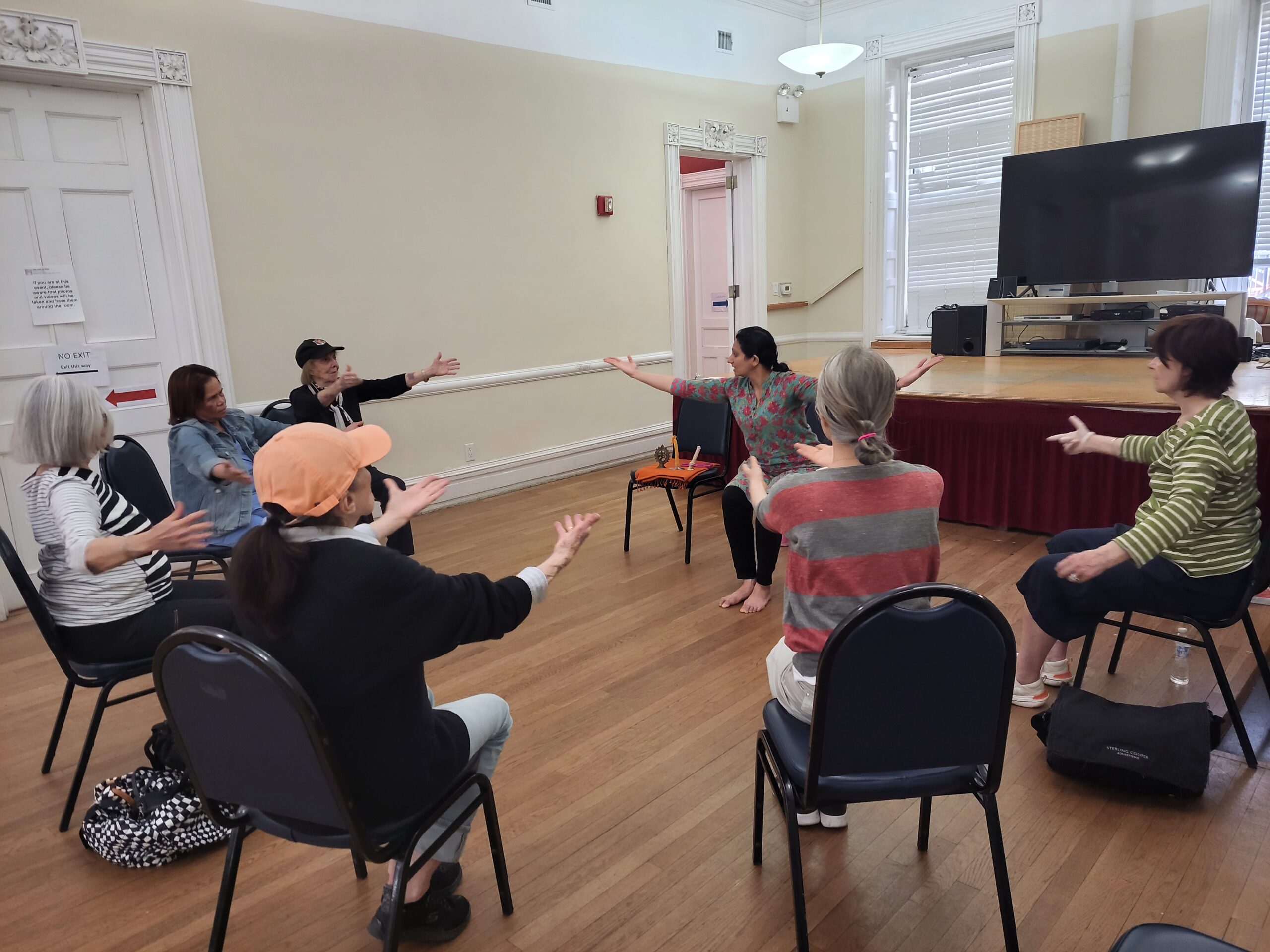 With Falls Prevention Awareness Week happening on September 18 – 22, we'd like to share some programs that focus on maintaining member's strength, balance, and overall well-being. We thank our partners Washington Square Park Conservancy, Dances for a Variable Population, HIGN/NYU, NYRR Striders, and Washington Market Park for making these programs possible! 
NYRR Striders
Monday, September 18 at 2 p.m.
Our Lady of Pompeii, 25 Carmine St. New York, NY 10014
Exercise to lively music and participate using percussion instruments. This approach not only helps divert your focus from the exertion of exercise but also enhances cardiovascular fitness, balance, and ensures an enjoyable overall experience! 
What is New York Road Runners / Striders? A FREE fitness program that offers physical activity for older adults looking to get active, stay fit, and improve their health with the goal of leading a more active life. The program also connects participants to a community of like-minded adults who are determined to prove that athletes have no age limits! 
Dances for a Variable Population
Tuesday, September 19 at 9:30am
Washington Square Park at the Garibaldi Plaza
Dances for a Variable Population is an interactive workshop using dance as a vehicle for movement and self-expression. Each class focuses on fun choreography and creative movement exercises that boost cardiovascular fitness and increase energy. This program engages various muscle groups, helping to build and maintain muscle strength and endurance. This is crucial for maintaining mobility and performing daily activities. Led by Artistic Director and Instructor, Naomi Goldberg Haas, who has recently been recognized for her outstanding contributions by receiving the 2023 Lifetime Impact in Dance Education Award.   
NYU Wellness Workshops
Tuesday, September 19 at 2 p.m.
All Centers
The "Watch Your Step" workshop, presented by NYU Rory Meyers College of Nursing, offers attendees valuable insights into fall prevention strategies. Participants will learn how to minimize the risk of falls and respond appropriately if a fall occurs, ensuring safety for themselves and others. 
Aerobics with JaZell
Wednesday, September 20 at 1:30 p.m.
Independence Plaza, 310 Greenwich St. 2nd Fl. NY, NY 10013
Guided by our esteemed instructor, JaZell, a favorite at our Center, members will partake in rhythmic aerobic exercises accompanied by stretching and strength training. This comprehensive aerobics program not only energizes but also contributes to enhanced bone density, effectively lowering susceptibility to osteoporosis. By fortifying the skeletal structure members will develop greater resilience, reducing the likelihood of fractures and injuries and consequently minimizing the occurrence of falls. 
Outdoor Tai Chi
Thursday, September 21 at 11 a.m.
Washington Market Park at Independence Plaza
This program is ideal for improving balance and fall prevention! Tai Chi incorporates slow, controlled movements that help enhance balance and stability and works in favor of preventing falls. You'll utilize weight shifting and muscle engagement that over time, helps build muscle strength, which is important for maintaining overall physical function. 
Japanese Dance
Friday, September 23 at 2 p.m.
Westbeth Center, 155 Bank St. NY, NY 10014
Staying rooted in cultural traditions and aesthetics, Japanese Dance offers a range of benefits that contribute to personal well-being and artistic expression. This style incorporates graceful and controlled movements that enhance flexibility, balance, and muscle strength, contributing to overall physical health!