Children will explore their creativity and imagination through various art techniques, including painting, drawing and collage. Children will explore materials, tools and the process of art making with step by step guided instruction. The goal of this class is for students to create a vocabulary of art and a mastery of the tools used to create art, which helps to increase their confidence in creation. Students will create both flat and 3D artworks through the exploration of texture, pattern and color. Art Discovery is led by Brenna Fisher.
Special Note:
If a class does not meet minimum enrollment requirements, GHMS will notify parents one week in advance of the beginning of class
Take Music and Art Discovery together for a 15% discount.
Teacher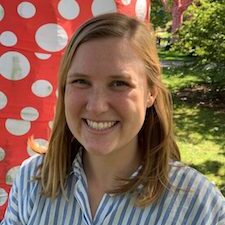 Brenna Fisher is a social practice artist interested in how artistic expression can be used to foster empathy, connection, and community. Brenna works in drawing, painting, and writing. During the […]