My Voice Changes When I Speak Your Language, Linda Sormin
Event Navigation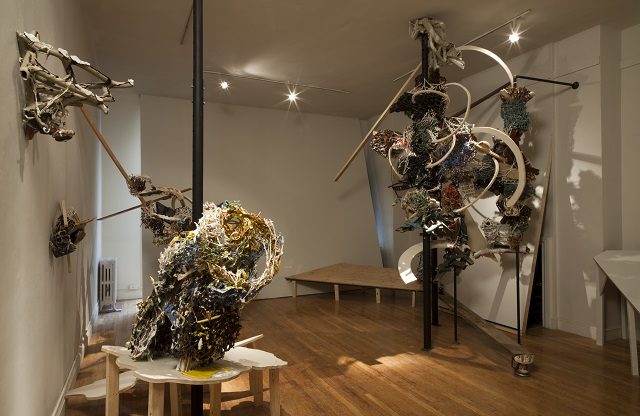 My Voice Changes When I Speak Your Language
Linda Sormin
October 26 – November 21, 2012
The Jane Hartsook Gallery is pleased to present Linda Sormin's new work in her first solo exhibition in New York City.
Sormin fills the gallery with intricate ceramic forms and invites an encounter with cultural and familial ghosts. Embroidering raw clay through objects she has found and re-purposed, Sormin uses this collection of material and things to enact stories of her ancestral Batak Indonesian past and experiences as an immigrant moving between cultures.
"Sormin practices the art of the slow burn– both literally… and also figuratively, in that her sprawling installations communicate a carefully controlled fury. It is a vivid, visual chamber music, in which not a single note of pragmatism, didacticism or functionalism can be heard… The visitor is encouraged to wander through this ceramic wonderland as if through an ancient forest." –Glenn Adamson
Through objects and large-scale installations, Linda Sormin's work explores issues of fragility, aggression, mobility and survival. Born in Bangkok, Sormin grew up in Canada and worked in community development for four years in Thailand and Laos. She studied literature and ceramics at Andrews University, Sheridan School of Craft & Design (Diploma '01) and Alfred University (MFA '03).
Sormin's work has been exhibited nationally and internationally, most recently at the West Norway Museum of Decorative Art (Bergen, Norway), Denver Art Museum (Denver, USA), gl Holtegaard (Denmark), Vallauris (France) and Middlesbrough (UK). From 2003-06 she taught ceramics at Emily Carr University of Art + Design (Vancouver, BC) and the Rhode Island School of Design (Providence, RI). She is currently Professor, Head of Ceramics at the Sheridan School of Craft & Design in Oakville, Canada.
Related Events