Perceptive Pleasure, Rob Raphael & Jessica Stoller
Event Navigation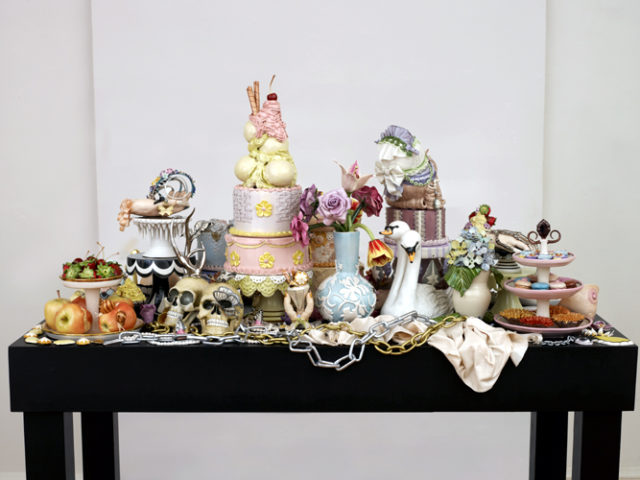 Perceptive Pleasure
Rob Raphael & Jessica Stoller
February 28 – March 26, 2013
The Jane Hartsook Gallery is pleased to present the work of Rob Raphael & Jessica Stoller. Related through medium and attitude, both Raphael and Stoller work in porcelain exploring the perceptual connection of the material toward beauty and the perception of the feminine. Stoller examines the idea of beauty – a dialectical construct bound with the grotesque. Raphael creates architectonic minimalist forms imbued with pattern and decorative elements whose material components he enlists to create sexual tension.
"I am interested in using clay as a vehicle to explore issues of idealized beauty, vanity and the subjugation of the female body using porcelain as my primary media, a material inextricably linked to secrecy, desire and commodification. I create figurative-based sculptures that are often partially masked, covered or unseen; calling viewers to witness these haunting works, including bodies contorted in marred, embellished form. From Marie Antoinette's breast cup to the Venus of Willdendorf, my work evokes forms and objectsof the past, creating compelling ceramic sculptures that takes lineage from the vast history of the female body articulated in clay." – Jessica Stoller
Jessica Stoller received her BFA from the College for Creative Studies, and an MFA from Cranbrook Academy of Art. Stoller's work has been widely reviewed, in such publications as The New York Times, Ceramics: Art and Perception, and N. Pandora Feminist Journal, among others. She has been included in recent exhibitions at The Bronx Art Museum, NY; Fuller Craft Museum, MA; and Nuture Art, NY. Solo show venues include Hionas Gallery, NY; and The Clay Studio, PA. Stoller has been honored to participate in residencies including the Kohler Arts & Industry Program, WI and The Museum of Arts and Design's Open Studio Program, NY. A Daimler Chrysler Emerging Artist Nominee, her work is also included in numerous private collections.
"In my recent work, I have been creating structures from unfinished lumber, a traditional material for building. Ornamenting the lumber structures are delicate porcelain floral bouquets and geometric shapes fused together with dripping glaze and paint. I am interested in combining these perceived masculine and feminine materials to create a platform to investigate structure and ornament, decoration and function, and sexual difference." – Robert Raphael
Robert Raphael lives and works in Brooklyn, New York. His work has been exhibited nationally, including a solo exhibition at The Clay Studio (Philadelphia, PA). Recent group exhibitions include Dean Project (New  York), Like the Spice Gallery (Brooklyn, NY), The Fine Arts Center, University of Arkansas (Fayetteville, AR), and Delaware Center for Contemporary Art (Wilmington, DE ). This spring Raphael will be exhibiting in the Bronx Museum's Artist in the Marketplace Biennial. Raphael received his MFA from Cranbrook Academy of Art, and his BFA from Rhode Island School of Design.
Related Events