In Our
Neighborhoods,
Impacting Lives.
27 Barrow Street
Barrow Street Nursery School
Youth Community Center
The Center for Resiliency and Wellness
Lifelong Skills and Opportunity Center
20 Washington
Older Adult Center – Center on the Square
16 Jones Street
Greenwich House Pottery
55 Bethune Street
Older Adult Center – Westbeth
46 Barrow Street
Greenwich Music School
Methadone Maintenance Treatment Program
25 Carmine Street
Older Adult Center – Our Lady of Pompeii
20 Washington Square North
Older Adult Center – Independence Plaza
A Message from Our Leadership
Dear Friends,

2022 marked 120 years of Greenwich House! To celebrate this milestone, we reflected on our legacy of responding to community needs, launched new initiatives, and expanded our existing programs to pave the way for an even deeper impact in the decades to come.

From outreach to those most affected by the opioid overdose crisis to the launch of our new workforce program amid challenging economic times, Greenwich House bore witness to challenges in our community—and stepped up to solve them.

Our team welcomed New Yorkers of all ages through our doors, providing everything from mental health support, to daily meals, to education and youth development programs, to accessible arts programming.

This was only possible because of the network of friends and supporters like you, who believe and invest in our work.

We want to thank the many individual donors, partners, foundations, neighbors, friends, members, students, and families for supporting Greenwich House and celebrating 120 years with us. We truly couldn't do this work without you!

Together, we move confidently and optimistically into the next chapter of the Greenwich House story. We hope we can count on you for your continued support of this wonderful community.

With gratitude,

Jan-Willem van den Dorpel
Board Chair

Darren Bloch
CEO & Executive Director
Celebrating a Legacy of Service
Mary Kingsbury Simkhovitch founded Greenwich House on Thanksgiving Day in 1902 to improve the living conditions for immigrants. Now, 120 years later, our work stays true to Smikhovitch's original vision of establishing a community hub of social services and the arts for all New Yorkers. Today, Greenwich House enriches the lives of New Yorkers of all ages through arts and education programs, older adult services, and social and mental health services.
In 2022, Greenwich House held a series of events to celebrate 120 years of service to the community.
Greenwich House kicked off its milestone anniversary celebration with an event in Washington Square Park, featuring musical performances highlighting genres from over the past 120 years, tablescape pottery, musical instrument petting zoo, face painting, workshops on tai chi, art making, and training on NARCAN administration.
The Greenwich House Older Adult Network boogied down at a "Dance Through the Ages" prom-style event, featuring music from across the decades.
At our 120th Anniversary Benefit, Greenwich House raised mission-critical funds to support our arts and education, older adult services, and mental and behavioral health programs, and also for needed renovations and repairs to our historic West Village buildings and spaces.
Responding to the Opioid Crisis
The Greenwich House Methadone Maintenance Treatment Program has a long-standing history of pioneering progressive and patient-centered care since its inception in the 1970s.
Building upon this legacy, the 2022 "GH@Home" pilot program represents a paradigm shift in the approach to methadone maintenance treatment. By cross-training certified peer counselors as home health aides, the program provides personalized care within familiar surroundings. This approach promotes independence, better health management, and individual empowerment.
In 2022, 64 participants enrolled in phase one, experiencing improved self-esteem, self-efficacy, and overall health. GH@Home's success showcases the organization's commitment to innovative and patient-centered care.
It serves as a model for future expansion and advancements in addiction treatment, offering hope and transforming lives through its emphasis on dignity, autonomy, and sustained recovery.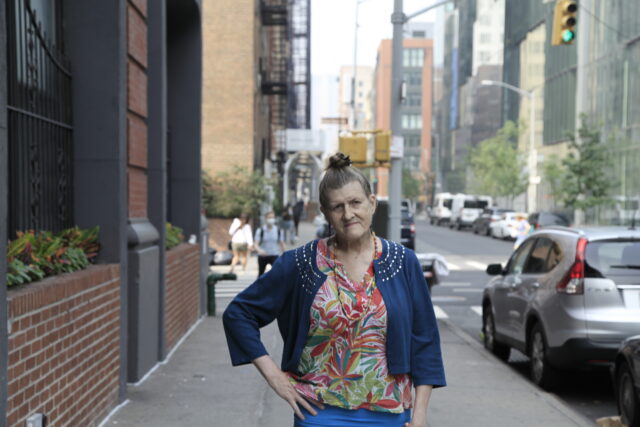 "It's really about medication management and harm reduction. Many of our patients tend to be very private people and some self-isolate unconsciously, so this program allows them to receive support and treatment in a familiar setting."
As a home health aide, Elisabeth helps patients with finding health care providers and with becoming more self-sufficient. As a certified peer recovery counselor who has lived experience with substance use disorder, she shares her recovery experiences and gets to know them personally in order to build trust.
"Focusing on my health and starting to follow through with taking care of myself was a huge part of my own recovery. I really try to get the patients to understand and that their life will be better if they visit their primary care physician and go for regular checkup. I tell them you're worth taking care of, and I know it can be difficult to accept, but it's really the truth." – Elisabeth Diekmann
Delivering High-Quality Early Childhood Education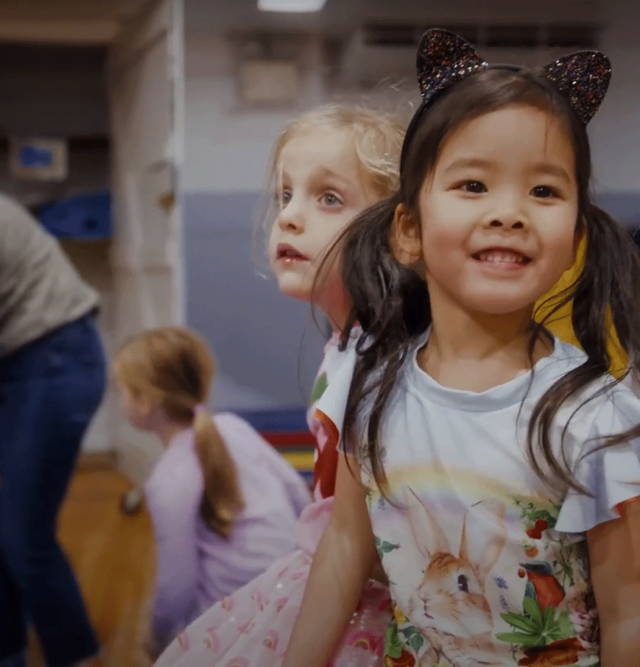 In 2022, Barrow Street Nursery School stayed true to its mission of igniting a lifelong passion for learning, the arts, and nurturing community and environment.
An incredible partnership with PS3 was continued, welcoming 30 fresh faces to the community.
In total, BSNS teachers delivered enriching learning experiences to a total of 229 students throughout the year, while families actively participated through meaningful dialogue and support.
Providing Affordable Access to Mental Health Care
With a diverse team of professionals, including therapists, psychiatrists, nurse practitioners of psychiatry, case managers, home health aides, and students, the Center for Resiliency and Wellness (CRW) delivers trauma-informed care to New Yorkers ages 3-100.
In addition to providing thousands of mental health services in 2022, CRW continued responding to the growing demand for more accessible and culturally competent options, with an emphasis on trauma-informed approaches tailored to each individual's unique circumstances.
To address the escalating opioid crisis, the Center became a registered Opioid Overdose Prevention Program under Greenwich House's MMTP and expanded its substance use service capacity by certifying psychiatric providers to offer medication assisted treatment. Emphasizing its commitment to comprehensive care, the Center also continued growing its services for the dually diagnosed by admitting individuals with both mental health and substance use disorders.
Through Healing Hearts, an innovative drama therapy summer program developed in
collaboration with the Greenwich House Music School, the Center uses play-therapy to restore age-appropriate social skills and emotional regulation in registered CRW children.
"My son has seen a child therapist at Greenwich House for some time now. Her compassion, knowledge, and life strategies have helped my son overcome many obstacles." – Mother on behalf of 17-year old patient
Supporting Workforce Re-entry and Digital Literacy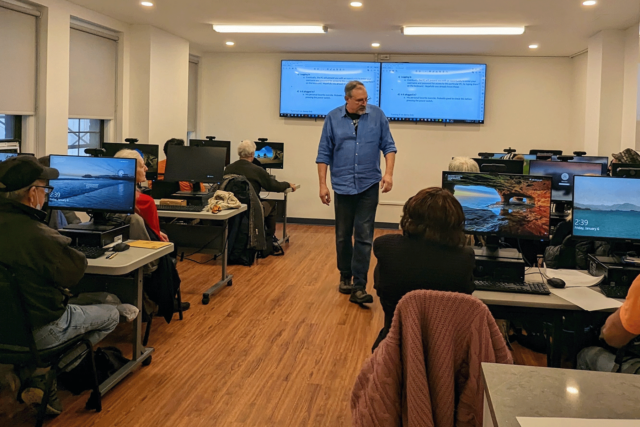 On November 1, 2022, the Lifelong Skills and Opportunity Center opened as a groundbreaking pilot program focused on connecting out-of-work New Yorkers to job opportunities and training, with a focus on older adults.
With an eye toward supporting communities long-served by Greenwich House, including individuals in recovery receiving behavioral health and older adult services, the center provided technical skills development, interview coaching and job search
support. GH's workforce team also educated older adults on the employment options available to them while receiving government benefits.
The center is committed to empowering New Yorkers through case management, skills development, job training and coaching, making a positive impact on their journey to the workforce.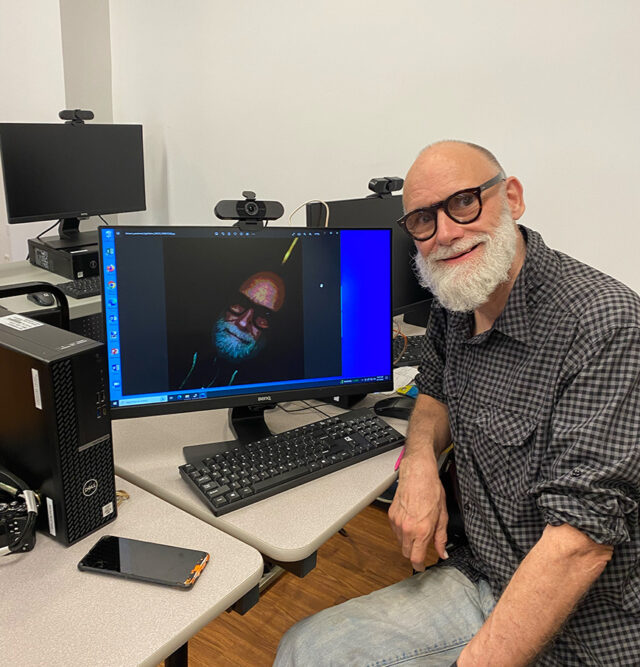 Gregg Powell, a 73-year-old retiree, photographer, and multimedia artist, visits the computer lab daily to edit his photos and acquire new computer skills to enhance his entrepreneurial pursuits.
"My long-range objective is to establish a website to sell my work online," said Powell, who is a full-time artist, having retired from his careers in carpentry and computer programming, respectively, after 25 years. He lives on the Upper West Side and travels to Greenwich House daily to edit his photos and learn new skills.
"I am also improving my word processing skills through a class here. I use Excel to create numerous tables and graphs to chart the events in my life."
Providing a Platform for Rising Ceramists
Greenwich House Pottery (GHP) continued its mission of cultivating creativity in clay by providing an enriching communal space for 1,200 students to explore their artistic talents.
Additionally, GHP showcased seven inspiring exhibitions, featuring exceptional artwork created by world-class contemporary artists, and emerging talent. The program's commitment to accessibility and inclusivity was demonstrated by awarding financial aid to 15% of students, ensuring that individuals from all backgrounds could engage in the transformative power of pottery.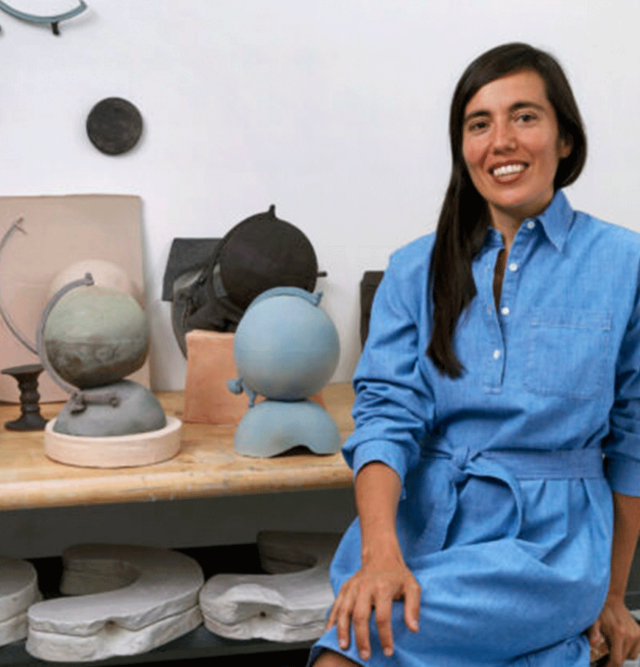 Four artists in residence brought their unique perspectives and artistic practices to GHP. One of the program's participants, multidisciplinary artist and educator Alva Mooses, combines her ceramic sculptures with geological materials such as rammed earth, cast concrete, and volcanic stones, serving as commentary about the impact of colonialism on our social and physical environments.
While taking advantage of GHP's state-of-the-art facilities and resources, Alva used her residency time for artistic experimentation to further realize and elevate her creative vision.
The GHP community was invited to take inspiration from watching Alva's art practice unfold, gaining new insight from her unique approach to the ceramics medium.
Empowering Youth Creativity, Growth and Connection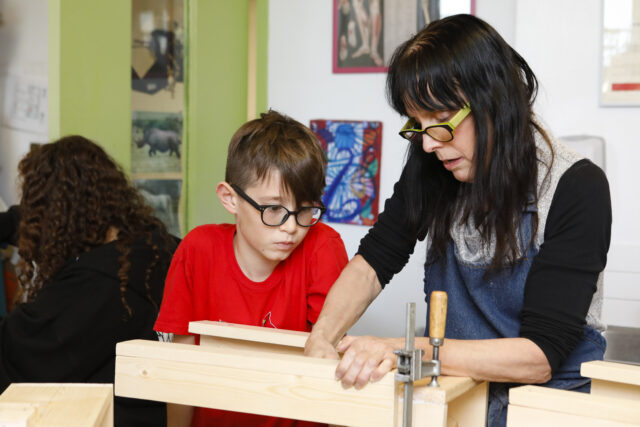 Our Youth Community Center's engaging enrichment programs combined play, movement, technology, and creativity with academic support, ensuring children had a safe space to explore their interests, discover their potential, and develop essential social skills.
With a diverse range of arts and STEM after-school classes, and summer/holiday camps, the center stimulates learning and builds character.
In 2022, 475 students actively participated in the center's offerings, which included 30+ STEAM classes, including cartooning, coding, tennis, woodworking, podcasting and much more.
"Knowing that our child is brought by staff to the YCC and that our child feels safe, happy and at home in the community there is wonderful! She loves each of her classes, trusted adults, and the social time until we are able to leave work and come get her. We know that her afternoons at the YCC are enriching to her emotional, social and academic well-being and are very thankful for the staff and their generosity of expertise, time, and care." – YCC Parent
Supporting Musicians Across Generations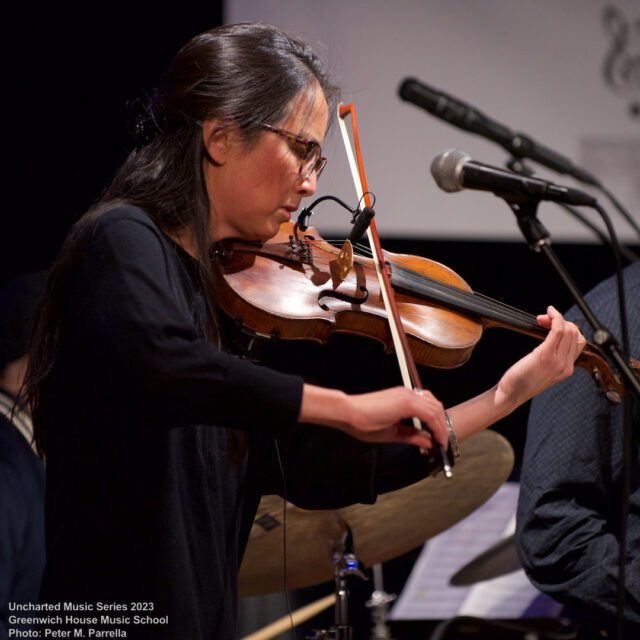 Greenwich House Music School (GHMS) is a vibrant hub where the beauty and transformative power of music, art, dance, and theater come to life. With a steadfast commitment to providing high-quality and affordable arts education, GHMS ensures that individuals of all ages can access the enriching world of the arts.
Thanks to the generous $200,000 gift from the Baisley Powell Elebash Fund, GHMS has expanded its Artist-in-Residence program, providing six exceptional artists with the freedom to innovate over the next five years through the Uncharted concert series. This investment empowers artists, nurtures unique voices, and strengthens the artistic community. GHMS, alongside the New York Presenters Consortium, identifies these talented individuals and offers them a supportive platform to develop their craft.
As GHMS continues to amplify the voices of emerging artists, it enriches the cultural landscape, fostering creativity and collaboration for a vibrant artistic future.
"The Elebash Fund's generous gift enables us to continue supporting exceptional artists from diverse genres," said Rachel Black, the director of GHMS. "Through our Artist-in-Residence program, we provide these talented individuals with the necessary resources to further develop their artistic vision."
In collaboration with Grand St. Settlement and Little Mozart Foundation, the Music School, expanded music and arts access to 400 HeadStart students, aged 2 to 4, in Lower Manhattan and Brooklyn.
GHMS and LMF's expert arts instructors were embedded into Grand Street's early childhood classrooms, exposing students to classical instruments through LMF's vibrant, bilingual workshops. This transformative alliance underscored a profound commitment to invigorating NYC's underserved communities with rich arts education.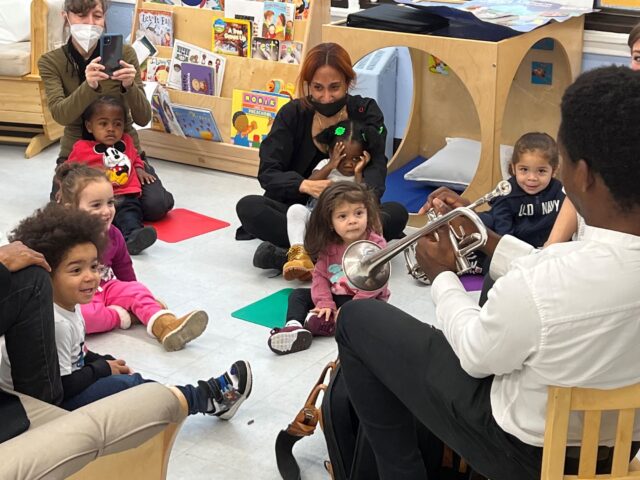 Fostering Vitality, Wellness and Creativity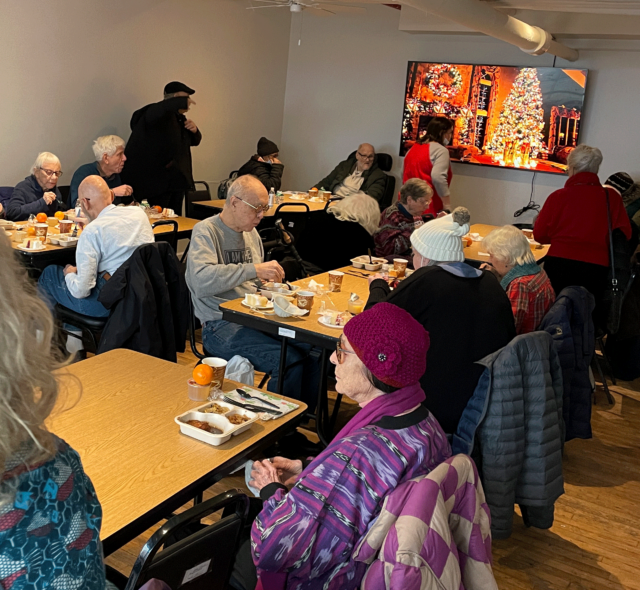 Against a backdrop of COVID-19, cost-of-living inflation, and the complex landscape of food insecurity, Greenwich House Older Adult Centers continued to be a destination and resource for social connections, artistic exploration, and healthy living for thousands of 60+ adults in the community.
With a staggering 50,734 meals served across our 4 Manhattan locations, older adults were assured access to nourishment and a sense of community. Our new Westbeth Center, which opened June 28, 2022 at 155 Bank Street, is one of the few older adult sites in the City offering meals and services on weekends when so many go without.
The highly anticipated Art Show at Center on the Square returned in 2022 with much fanfare and celebration after a three-year hiatus caused by COVID-19. In addition to offering thousands of health and wellness, education, and arts classes, Greenwich House forged a partnership with the NYC
Parks System improving the quality of life for older adults in downtown New York by expanding outdoor classes to include Tai Chi, dances, picnics, community gatherings, as well as drawing and painting classes at Washington Square Park.
Beyond our doors, GH older adults enjoyed trips to The Whitney Museum, Broadway performances, and culminated in hosting their own Off-Broadway show hosted by Jo Firestone at GH Theater.
Roberta Curly, a retired administrator for the NYPD, became a member of the Westbeth Older Adult Center shortly after its inception and has since discovered a welcome and vibrant community among her fellow peers. Curly derives immense pleasure from participating in weekly poetry classes and engaging in enriching excursions to art museums and Broadway plays. In fact, she accepted a job as a poetry instructor at the Center. She even composed a heartfelt poem titled "Celebrating Center Core" to express her profound gratitude for the invaluable services and unwavering support she receives from Westbeth.
"Celebrating Center Core"

I feel cared for 

I feel lucky

I am categorized as "old"

I live alone

I'm childless

I have a really old boyfriend

Our relationship is vicissitude-filled

He's fun — a low-key riot

Often I need space

But I'm not solitary

My brothers hover, occasionally

I have culinary assistance—

Fresh Direct appears at my door

I choose my daily activities

Westbeth Older Adult Center opened 

Two blocks away

They serve balanced, hearty lunches

Sometimes better than Fresh Direct

More nourishing than food though- – 

Is camaraderie – never lacking here

Perks magically appear in this center

Museum trips, shopping jaunts

A drawing for free "Wicked" tix

Jubilant vibes from dedicated Directors

A laudable, multigenerational staff

All empathic, easy to know

like our social worker —

Classes, movies with fresh popcorn

What likely keeps me returning?

Mostly retirees, like myself

Or those still on the job

Hanging out, opening up, sharing

Somewhat like a dating service…

But with heart 
Our Donors
Thank you for your support.
$100,000+
Anonymous, Baisley Powell Elebash Fund, New York Health Foundation, New York Community Trust
$50,000-$99,999
CLAWS Foundation, Estate of Margaret Throne, van Ameringen Foundation
$25,000-$49,999
Amazon, Cathy and Frank Aquila, Fan Fox and Leslie R. Samuels Foundation, Susquehanna Foundation, Wasily Family Foundation
$10,000 – $24,999
Karen and Edward A. Adler, Myrna Chao, Con Edison, DJ McManus Foundation, Mary Ann Eddy, Cheryl Henson, Hesed Foundation, Isaac H. Tuttle Fund, Diane C. and Gerard Koeppel, Lenore G. Tawney Foundation, Louis & Anne Abrons Foundation, Tamara A. Lynch, Morgan Stanley, Workforce Resource & Training Hub Planning Process, Elissa Kramer and Jay Newman, New York Foundation for Eldercare, Hyde & Watson Foundation, The Philip J Solondz Family Foundation, Pinkerton Foundation, Richard Steadman, The Robert Beatrice, Hompe Foundation, Tracy Dockray Rudd and Mark Rudd, Windgate Charitable Foundation Inc.
$5,000 – $9,999
Annie Renesselaer Tinker Fund, Stephen Bernstein, Judith Carson, Peg Downey, Lita Elvers, Arlene Kohn-Gilbert, Erin and Samir Hussein, Elliott Joseph, J.P. Morgan Charitable Giving Fund, Amy and Chris K. Kiplok, Lenox Health Greenwich Village, Elizabeth Mazza, Henry Pinnell, Helena Starcevic, The Robert & Beatrice Hompe Foundation, United Neighborhood Houses of New York, Inc., Ricarda and Jan-Willem van den Dorpel, Verizon
$1,000-$4,999
Arthur J. Gallagher & Co., Nancy Langsan and Daniel K. Bernstein, Victoria and Steven Bernstein, Rene and Jared Blank, Patricia Burke, Blanche Cirker, CME Group Community Foundation, Jane and Peter Coleman, Annette and George Davidson, Bess, Oransky and Craig deLaurier, Andrea Didisheim, Joan Ellis, Fiordellisi Williams Family Foundation, Kevin Foley, GEICO Philanthropic Foundation, Donna Green, Peter Hanifin, Gary Kahn, Colleen and Matthew Kapklein, Lower Manhattan Cultural Council, Ilana and Gregory Mazlin, Katherine McMillan, New York University Community Fund, Susan Niederman, Neil Oxford, Lisa Paolella, Jeni Slotchiver, Nancy and Jay Talbot, Virginia Teller, The Hajim Family Foundation, The Hamlin Foundation, The Lucretia Philanthropic Fund, Inc., Barbara A. Payne and Roger L. Tobin, James Turnbull, Lisa and Daniel Uribe, Laura Valeroso, James Vinick, Carole Yass
$500-$999
Michele Allmaras, Kristi Ambrosetti, Meredith Bagerski, Abby Bloch, Darren Bloch, Lee Botnick, Sarah and John Cave, Julie Chodos, Clearview Festival Production, Ruth Cohen, Cowgirl Hall of Fame, Downtown Women OB/GYN Associates, LLP, Leah and Noel Edelson, Valerie Kay and Bruce Graham, Deborah Glick, Mary Good, Gabrielle Fialkoff, Andrew Fleiss, Ethel and Bernard Garil, Anat Gerstein, Carmine Gibaldi, Ferne Goldberg, Tonya Herring, Jeffrey Jackman, Karl Lauby, Veronica Maginnis, Harry Malakoff, Stephen Palitz, Caroline Parker-Beaudrias, Amy Pressler, Kevin Reed, Sol Reischer, Maria Robledo and Holton Rower, Amy Segal, Wanda M. Olsen and Robert Silverstein, Kevin Smith, Christine Smith, Rena Stallings, Katya Sternberg, Scott Stokke, Beth Barry and Daniel Sussman, John Tietjen, Charles Tisch, Village Apothecary, Junko Watanabe, Eric Weinberg, James Wernz
$250-$499
Susanna Aaron, Julie Salamon and William Abrams, Elaine Anderson, Kamran Ansari, Lisa Baroni, Bedford Barrow Commerce Block Assc., Lee Berresford, Mara and Roy Blitzer, Jesse Chasse, Helen Chang, Kathryn Donaldson, Ianthe Dugan, Rachel and Melvin Epstein, Susan Ferguson, Bruce Green, Gregory Farrell, Joan Flanigan, Shaiza and Jonathan Friedland, Suzanne Waltman and Martin Friedman, Jamie Gaul, Thomas Gazianis, Linda Giuliano, Christina Gleason, Nasser Hashash, Hearst Corporation, Chris Henry, Gary Herman, Susan Hochman, Robert Hoffman, Jean-Baptiste Jacquet, Betty Jones, Fiona Lennon, Frank Lopez, David Lerner, Robert Lewis, Carolyn Libretti, Lorene Straka and Alex Lue, Paul Mandell, Ashley McGuire, Network for Good, Ken Nichols, Jono Pandolfi, Zachary Perlman, Diane and Anthony Perrin, Klenton Perry, Randolph Petsche, Randi Puccio, Karen Remy, Jose Santiago, Fran Schwartz, Alan Segal, Courtney Van Fechtmann, Kimberly Phillips-Fein and Gregory T. Varga, Dani Vetere, Susan Vogel, Susan and Jeffrey Weisenfeld, Jennifer Young, Mark Young, Electra Yourke
Our Team
Celebrating a shared commitment to meeting the needs in our communities.
Leadership Team
DARREN BLOCH
Chief Executive Office and Executive Director
ALEXIS OFFEN
Chief Operating and Strategic Officer
LAURA LANGNER
Chief Health and Human Services Officer
ROBERT N. BLEDSOE
Director of Finance
ASHLEY MCGUIRE
Chief Development Officer
TEARANNY STREET
Director of Marketing and Communications
OMAR AMORES
Director of Greenwich House Youth Community Center
RACHEL BLACK
Director of Greenwich House Music School
FABIO FERNANDEZ
Director of Greenwich House Pottery
NICOLE PAPPAS FERRIN
Director of Barrow Street Nursery School
LINDA GIULIANO
Director of The Center for Resiliency and Wellness
NORMAN REISS
Director of Older Adult Services
CAITLYN ROMANO
Program Director of Methadone Maintenance Treatment Program
SARA TAKI, MD
Medical Director of Methadone Maintenance Treatment Program
Board of Directors
CHAIR
Jan-Willem van den Dorpel
VICE-CHAIR
Cathy Aquila
VICE-CHAIR
Christopher Kiplok
TREASURER
Samir Hussein*
SECRETARY
Tamara Alexander Lynch
Ed Adler
Myrna Chao
Carmine Gibaldi
Wendy Gonzalez
Diane Koeppel
Gregory Mazlin
Henry Pinnell
Mark Rudd
Laura Valeroso
Directors Emeriti
George A. Davidson*
Robert J. Egan*
Ronald H. Lamey*
Margaret B. Lowe (Deceased)
Manton B. Metcalf, III (Deceased)
David M. Parsons
Kathryn Patterson
Alvah O. Rock
Carol A. Strickland
Steven I. Wulf

*Past Chair
Thank you to our partners in the work
Anat Gerstein, Inc.
BTQ Financial
Gallagher Benefit Services, Inc.
Human Services Council
LiveOn NY
Marks Paneth, LLP
Network Doctor
United Neighborhood Houses
Our Financials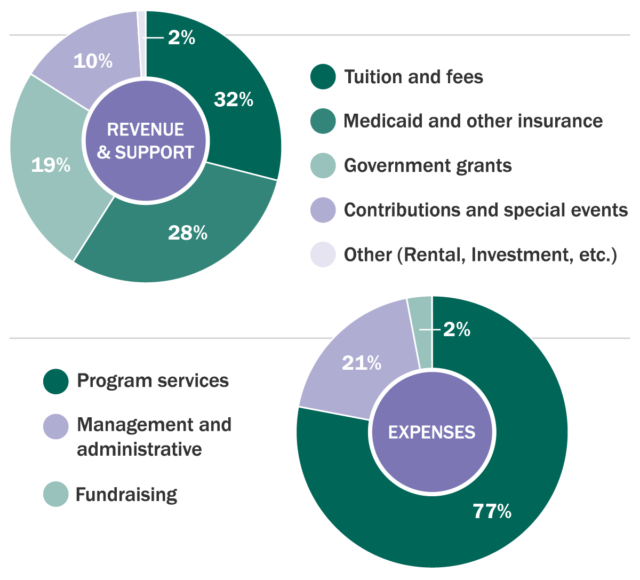 Operating Revenue and Support
Contributions and special events
$
2,288,676
Government grants
$
4,427,386
Tuition and fees
$
7,594,039
Medicaid and other insurance
$
6,601,774
Rental income
$
393,456
Investment returns
$
11,068
Other income
$
311,410
Forgiveness of Paycheck Protection Program
2,189,317
Total Revenue
$
23,817,126
Expenses
Program services
$
17,965,989
Management and administrative
$
4,892,158
Fundraising
$
414,616
Total Expenses
$
23,272,763
Assets
Cash and cash equivalents
$
6,573,048
Investments
$
2,940,438
Accounts receivable
$
4,950,786
Contributions receivable
$
518,350
Prepaid expenses
$
405,368
Beneficial interest in remainder trust
$
246,047
Property and equipment, net
2,935,966
Total Assets
$
18,570,003
Liabilities
Accounts payable
and accrued expenses
$
1,799,901
Accrued salaries
and related liabilities
$
632,749
Deferred tuition
$
4,197,783
Line of credit
$
752,645
Loan Payable
$
492,500
Total Liabilities
$
7,875,575
Net Assets
Unrestricted assets
$
5,918,722
Temporarily restricted assets
$
3,064,445
Permanently restricted assets
$
1,711,261
Total Net Assets
$
10,694,428
| | | |
| --- | --- | --- |
| Total Liabilities and Net Assets | $ | 18,570,003 |