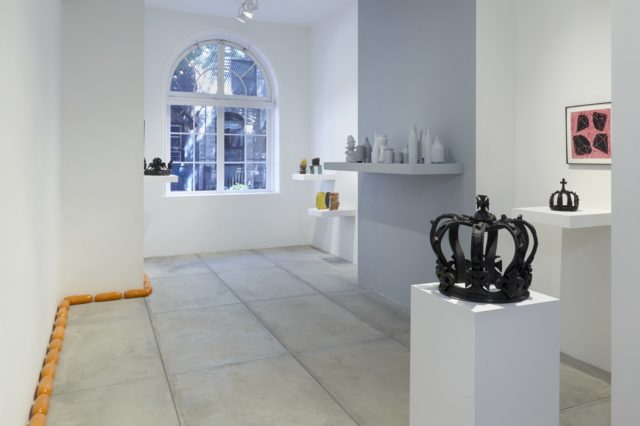 Visit
Open on Thursdays, 12:00 – 6:00 p.m. or by appointment. Contact Gallery and Residency Manager Kaitlin McClure to schedule a visit or sign up for an appointment online.
About
Greenwich House Pottery has held exhibitions of ceramics since as early as 1905, but a permanent exhibition space was not opened until 1970, under the direction of Jane Hartsook (Director, Greenwich House Pottery 1945-1982). The Pottery had long been a hub for amateur and professional artists alike, and the addition of a permanent gallery space reflected how it had developed into an important center for American ceramic arts. Upon her retirement in 1982, the gallery was renamed the Jane Hartsook Gallery in her honor.
The Jane Hartsook Gallery seeks to broaden the knowledge of the ceramics sphere in the community, the field, and the art world, with an emphasis on promoting emerging and underrepresented artists who demonstrate an innovative level of excellence within the medium. The Gallery's exhibition series, Ceramics Now, is comprised of around six exhibitions each year, all of which are featured in the Gallery's annual catalog. The centerpiece of the gallery's program is the annual Ceramics Now group show, which celebrates the artwork of Greenwich House Pottery's Resident Artists.
Copies of the Gallery's annual catalog, CERAMICS NOW, are available online for educational purposes, or for purchase by contacting Kaitlin McClure.
Exhibition Proposals
The Jane Hartsook Gallery echoes the Pottery's commitment to supporting emerging and established ceramic artists who have demonstrated an innovative level of excellence within the medium. The Gallery also promotes an educational mission to share historical and contemporary works in clay with a diverse community. The Gallery accepts proposals from artists or curators where clay/ceramics is the primary medium. We aim to represent the wide-ranging capabilities of clay as a material and are interested in work that approaches the medium from art, craft, and design perspectives.
The next deadline for exhibition proposals is September 15, 2023 for exhibitions in 2024.
Proposals will only be accepted through SlideRoom.
Read the guidelines for applying here.